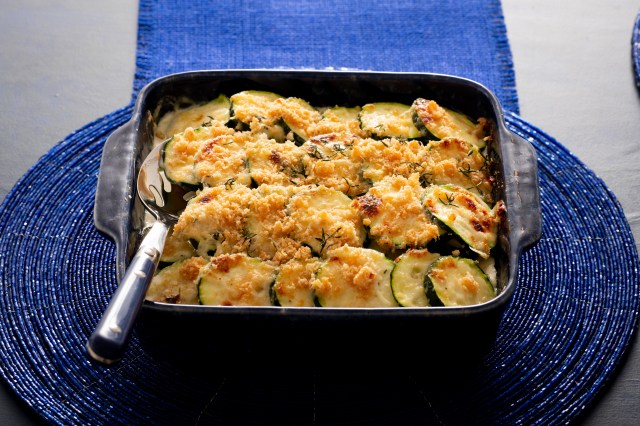 Atkins' Most Popular Low Carb and Keto Recipes of 2022
An exciting preview for our year in review of Atkins' most popular recipes.
We have rounded up the most popular and clicked-on low carb and keto recipes of 2022, according to our Atkins community. Keep reading to find out the winning recipe of the year, plus the most popular appetizers, main dishes, breakfasts, beverages, desserts, snacks and more. Based on these results, zucchini could also take the honors as the most popular vegetable of the year.
Most Popular Low Carb Recipe
This cheesy, creamy dish has all the pop of a potato gratin dish, but instead features slices of zucchini. This most popular pick is naturally low in carbs, and it is clearly a hit year around, whether it's for a holiday side dish or to make the most of fresh zucchini in season from your garden or farmers' market.
Top 5 Most Popular Low Carb and Keto Recipes
Once again, Zucchini Gratin tops the list. Plus, pizza, a convenient Instant Pot recipe and creamy cauliflower risotto.
Top 3 Low Carb and Keto Appetizer Recipes
You'll get your chips fix with Keto Zucchini Crisps and Low Carb Queso and Chips, plus a bar-food favorite: Buffalo Hot Wings.
Top 3 Low Carb and Keto Breakfast Recipes
These recipes hit all the breakfast bases from French toast, a convenient protein shake that's also vegan and a hearty scrambled egg dish.
Top 3 Low Cab and Keto Drink Recipes
The iced tea and coffee drinks are the perfect alternatives to the ones packed with sugar. You save on money and carbs without sacrificing on flavor.
Top 3 Low Carb and Keto Main Dish Recipes
You'll love these popular main dish options: A creamy Instant Pot Italian dish, keto chili and a juicy burger.
Top 3 Low Carb and Keto Dessert Recipes
Ice cream, donuts and cheesecake. And they're low carb? Yum!
Top 3 Low Carb and Keto Snack Recipes
We were mad for muffins this year, as is clear by these
Most Popular Keto Recipe
Keto Zucchini Crisps for the win! They Atkins' community favorite swap for potato chips.
Most Popular Atkins Meal Plan
Kick-start your low carb journey with Atkins 20 Quick Start Meal Plan, which features two weeks of delicious keto and low carb breakfasts, snacks, lunches and dinners, plus shopping lists.