Keto Instant Pot® Creamy Italian Chicken and Kale
---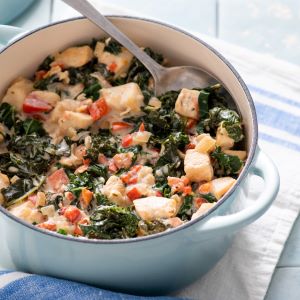 6.5g
Net Carbs
Prep Time: 20 Minutes
Style:Italian
Cook Time: 20 Minutes
Phase: Phase 1
Difficulty: Difficult
* Any adjustments made to the serving values will only update the ingredients of that recipe and not change the directions.

How to Calculate Atkins Net Carbs
How to Calculate Atkins Net Carbs
Atkins Net Carbs = Total Carbohydrates – Fiber – Sugar Alcohols/Glycerin (if applicable)
×
---
INGREDIENTS
2 ea fresh garlic, clove

1 ea fresh roma tomatoes

0 1/4 cup red bell pepper, roasted

1 Tbsp olive oil

0 1/2 cup Yellow Onion, chopped

1 cup chicken broth

0 1/4 cup heavy whipping cream

2 tsp italian seasoning blend

2 tsp red wine vinegar

8 cup fresh kale, chopped

1 lb raw chicken breast, skinless, boneless

0 1/2 tsp table salt

0 1/2 tsp black pepper, ground

2 Tbsp cream cheese

0 1/4 cup fresh parmesan cheese, shredded

0 1/4 tsp xanthan gum
DIRECTIONS
Mince or press the garlic. Chop the tomato and roasted red pepper. Set aside.
Turn on Instant Pot® sauté function and let warm. When hot, add olive oil and sauté onion until softened, about 2 minutes. Add garlic and sauté until fragrant, about 30 seconds. Turn off sauté, and add tomatoes, roasted red peppers, broth, cream, Italian seasoning, and vinegar, stirring to combine.
Layer the kale on top of the broth in the Instant Pot. Season both sides of the chicken breasts with salt and pepper, sprinkling the remaining salt and pepper on the kale. Place chicken on top of the kale (the broth should not be touching it). Cut the cream cheese into small dollops and place on the kale and chicken.
Attach the lid, seal the instant pot and set to pressure cook on high for 10 minutes. Allow to naturally release for 5 additional minutes then quick release following manufacturer's instructions.
Remove chicken and chop into bite size pieces. Stir the cream cheese into the kale and sauce. Add the parmesan cheese and xanthan gum and mix until slightly thickened. Add the chicken back in and mix to evenly distribute. Each serving is about 1 cup of kale and chicken.