---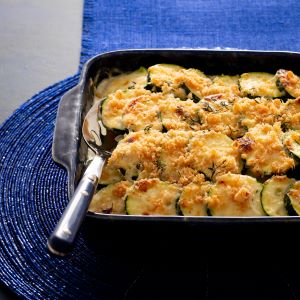 4.3g
Net Carbs
Prep Time: 30 Minutes
Style:American
Cook Time: 25 Minutes
Phase: Phase 2
Difficulty: Moderate
* Any adjustments made to the serving values will only update the ingredients of that recipe and not change the directions.

How to Calculate Atkins Net Carbs
How to Calculate Atkins Net Carbs
Atkins Net Carbs = Total Carbohydrates – Fiber – Sugar Alcohols/Glycerin (if applicable)
×
---
INGREDIENTS
2 lrg fresh zucchini, with skin

0 1/2 tsp table salt

1 Tbsp olive oil

0 1/4 cup fresh shallots, chopped

0 1/2 tsp fresh garlic

1 Tbsp fresh thyme

0 1/4 tsp black pepper, ground

0 1/2 cup heavy whipping cream

1 1/2 oz gruyere cheese

8 g deep fried pork rinds, 2.5 oz bag

1 Tbsp almond flour, super finely ground, gluten free

1 Tbsp parmesan cheese, grated
DIRECTIONS
Preheat oven to 425°.
Use a mandolin slicer to cut zucchini into ¼-inch slices and place in a single layer on baking sheets. Sprinkle with salt and set aside.
In a 10-inch skillet over medium heat, warm the oil until shimmering, add thinly sliced shallot and sauté until becoming translucent, about 2 minutes. Add minced or pressed garlic, 2 teaspoons thyme, and pepper sautéing until fragrant, 30 seconds. Add heavy cream, reduce heat to very low, and cook until heated through and beginning to thicken, about 3 minutes.
Spread 2 tablespoons of the cream mixture in the bottom of an 8 by 8 baking dish. Use paper towels to dry off the zucchini slices, then arrange about 1/3 of the slices in a layer over the cream sauce, overlapping the slices just a bit to fit. Top evenly with 1/2-ounce finely grated gruyere cheese, and a tablespoon of cream sauce. Repeat these layers, and finish with the remaining ½-ounce finely grated gruyere.
In a small bowl, combine crushed pork rinds, almond flour, and parmesan cheese. Evenly sprinkle over the casserole and bake for 20 minutes, until bubbling. Brown the top under the broiler for 3 minutes. Before serving, top with remaining 1 teaspoon fresh thyme. Each serving is about 4 ounces, or ½ cup.