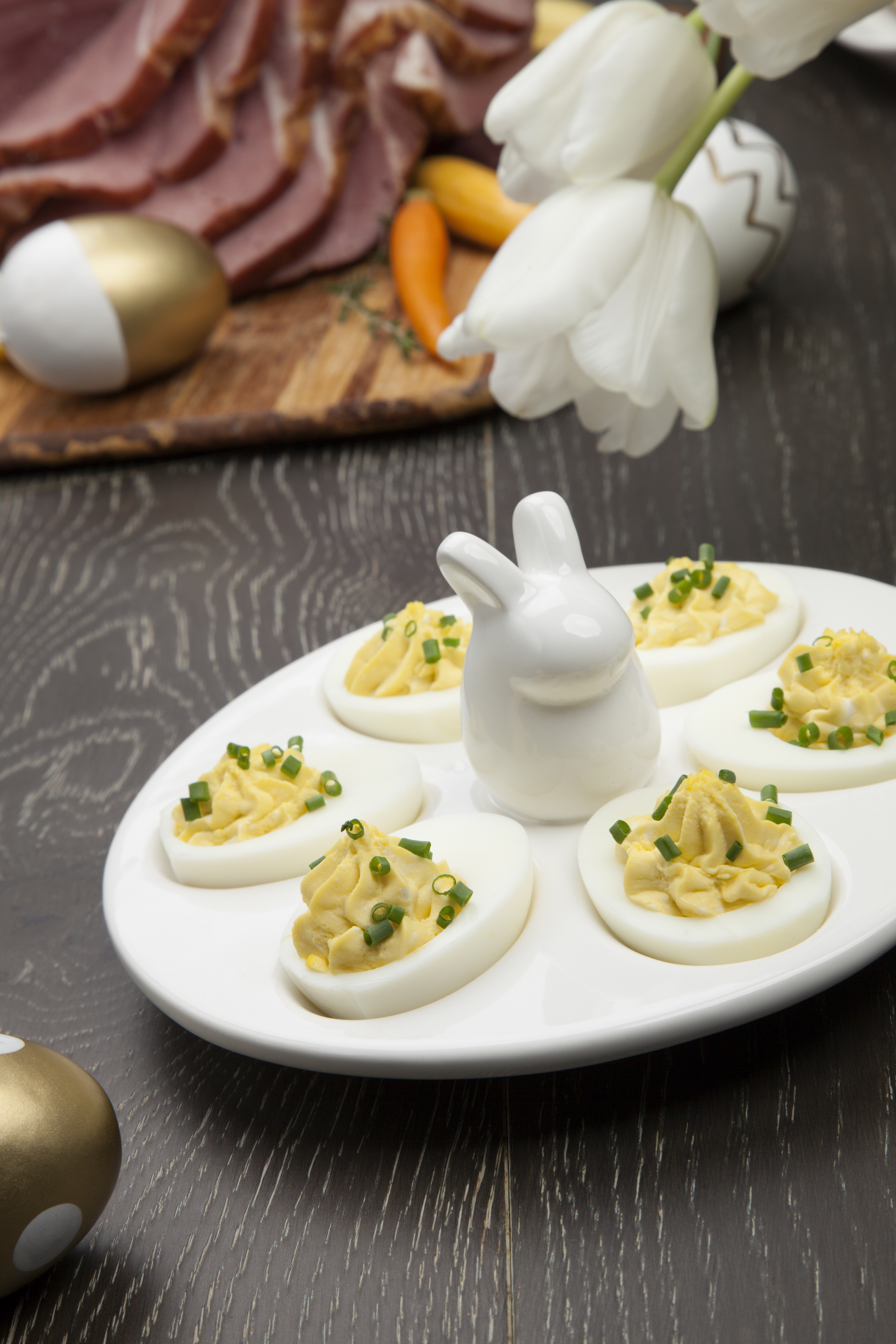 While Easter is typically a time for family gatherings or brunches at your favorite restaurant, this year is definitely a bit different. Fortunately, you can still make the day special and break out of your routine (or lack of) with some delicious and naturally low carb Easter recipes featuring the fresh flavors of spring and fun Easter traditions you can safely do, even while sheltering in place.
To start, take your pick from these low carb Easter recipes. They work perfectly, whether you're planning an Easter brunch or early dinner (at home, of course), and they also feature some immune-system-boosting ingredients.
The star of your meal features a hint of spice and smoke, with a sweet (yet sugar-free) apricot glaze. Keep reading, as I'll also show you a couple recipes for your ham leftovers.
Leg of Lamb with Garlic and Parsley
Lamb is also a traditional Easter main dish. Fresh garlic adds some zest to the meal, and acts as a cold-fighting antioxidant.
Salmon and Asparagus Sheet Pan
If you'd like to do something different, salmon is a great choice, plus it is high in healthy omega-3 fats and can help reduce inflammation and protect against colds.
Salmon Cakes with Avocado Tartar Sauce
This fresh, spring take on crab cakes also features avocado, a good source of healthy fats.
Cabbage is a traditional Passover side dish but goes great with Easter lamb as well. Cabbage also has a multitude of health benefits, such as strengthening immune systems and improving digestion
Asparagus in Vinaigrette with Walnuts
Asparagus is in season, and this light dish works wonderfully for Easter brunch or dinner.
Baby Greens with Grapefruit and Red Onion
This tangy and fresh green salad is also a nice complement to your Easter meal.
Hard-Boiled Eggs
It's not Easter without eggs. You can hard-boil a batch of eggs so the kids can dye them (I'll also show you a recipe for homemade Easter dye), and use the leftovers for deviled eggs or egg salad.
Place your eggs in a large pot and cover with water. Bring the water to boil over medium heat, then turn off the heat and cover with a lid. If you want soft-boiled eggs, set your kitchen timer for seven minutes. If you want hard-boiled eggs, set your kitchen timer for 11 minutes. Fill a large bowl with ice water and transfer your eggs to the ice water to stop the cooking process when the kitchen timer goes off. Remove after the eggs after a minute or two.
Just What the Easter Bunny Ordered: Low Carb Easter Desserts
From rhubarb muffins to fresh berry tarts with cream, I also have you covered with these eight low carb Easter dessert recipes.
Recipes for Low Carb Easter Leftovers
Whip this ham salad up and serve on top of a green salad or wrapped in a low carb tortilla for a quick serve-yourself lunch.
Broccoli, Ham and Swiss Casserole
If you have some frozen broccoli on hand, you can make the most of your ham leftovers with this easy casserole, which also features mushrooms, high in selenium and good for your immune system. Feel free to substitute frozen broccoli for any other frozen vegetables you have on hand.
Turn your leftover lamb into this comforting stew that works well for lunch or dinner.
Easter Activities for the Family
Dye some Easter eggs. You can fill your Easter basket with colorful Easter eggs using this homemade Easter egg dye. Be sure to send pictures of the most "egg-celent" eggs to friends and family everywhere.
Homemade Easter Egg Dye
Mix 1/2 cup boiling water, 1 teaspoon vinegar and 10 to 20 drops food color in a cup to achieve desired colors. Repeat for each color. Dip hard-cooked eggs in dye for about 5 minutes. Use a slotted spoon, wire egg holder or tongs to add and remove eggs from dye.
Go on a virtual Easter egg hunt. Hide eggs and treats around your house (or your yard if you have one) and let the kids video chat with friends or family and get them involved in the hunt for the most Easter eggs.
Get some Vitamin D. Get out in the spring weather for a walk and some fresh air after your Easter brunch or dinner.
I wish you all a happy and healthy Easter!