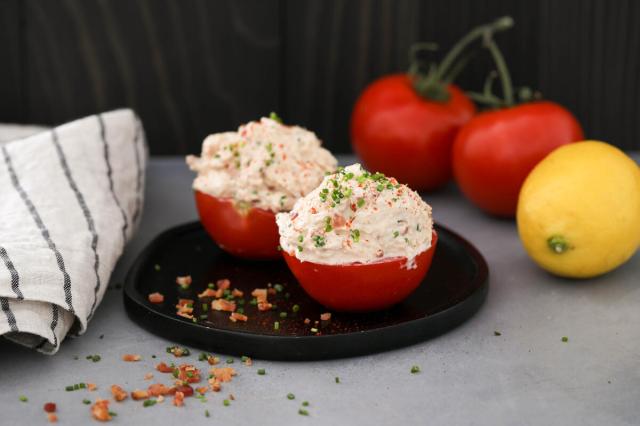 When the afternoon "hangries" hit, you can eliminate the empty calories and blood sugar-inducing highs and lows of a vending machine or fast-food temptations with this lineup of appealing and tasty low carb snack ideas, whether the snack occasion is back to school or in the office. The focus is on easy and fast prep and delicious, wholesome ingredients that satisfy your hunger.
Tasty Low Carb Snacks Idea
To keep your snacks fresh and cool, use insulated lunch bags with ice packs. For items that spill, use airtight containers. Proper packaging ensures your snacks remain as appetizing and tasty as when you first packed them. Perfect for picky eaters!
Almonds, walnuts, pecans, macadamia nuts, pumpkin seeds or pistachios are all great options. Go with nut and seed butter paired with celery sticks for dipping.
Dip sliced cucumbers, bell peppers, jicama and cherry tomatoes in hummus, guacamole, or salsa, or try any of these delicious low carb dips.
Snack on a slice of cheese like cheddar or Gouda. Keep mini cheese wheels and string cheese on hand for the ultimate grab-and-go cheese snack.
Nosh on hard-boiled or deviled eggs or deli meat or vegetarian roll-ups wrapped up with cheese or avocado. Prepare tuna, chicken or egg salad at the beginning of the week and pile on a romaine lettuce leaf, bell pepper or avocado half for a filling snack.
Blueberries, strawberries and raspberries are all low-glycemic fruits that make for the perfect sweet snack.
Unsweetened Greek yogurt is a creamy, low carb treat. Top with berries, chia or flax seeds or keto granola.
These dried sheets of seaweed have a briny flavor and crunchy texture.
Look for jerky that has no added sugar or other additives.
Made with almond or coconut milk or a low carb ready-to-drink shake, you can whip chia seed pudding up the night before and store it in a portable glass jar for easy eating the next day. Consider it a low carb version of overnight oats.
Take your pick of black or green olives, for a savory snack featuring healthy fats.
Stash an Atkins bar in your purse, backpack or desk drawer when time is tight, and you need a quick and tasty snack.
Flaxseed or almond flour crackers:
You can buy low carb flaxseed or almond flour crackers to go with cheese or a dip or you can make your crackers with this recipe: Simple Keto Crackers.
Get all the crunch, minus the carbs, with Kale Chips. You can also try Atkins Protein Chips for a satisfying and portable "crunch".
Cottage cheese:
Spoon up a small serving of full-fat cottage cheese for a protein-packed snack. Make your cottage cheese savory with a sprinkle of salt and pepper and fresh herbs, or sweet by topping with fresh berries.
Lightly salted, steamed edamame fits the bill.