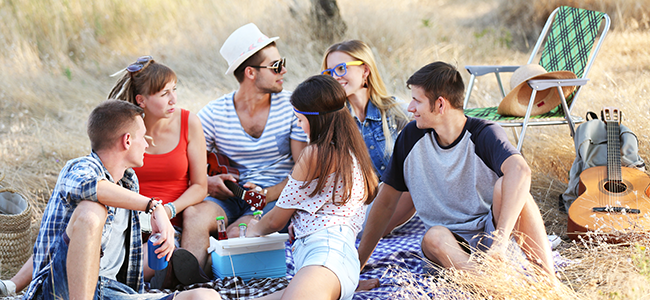 There's nothing more fun in the sun than a picnic, whether you're at the beach, by the pool or in a mountain meadow. First, it's important to avoid some common picnic pitfalls found in the form of added sugars (the average American could consume up to 22 teaspoons of added sugar a day… yikes!). These sneaky sugars may cause your blood sugar to spike, ultimately leading to fluctuating energy levels and weight gain. We also need to be aware of the Hidden Sugar Effect. While you might encounter obvious sugar-filled sources, such as cookies, at a picnic, did you know a hamburger bun or a potato may also raise your blood sugar levels as well?
Fortunately, you can pass on these picnic pitfalls when you can pack your cooler with these portable low carb and keto-friendly picnic recipes.
Throwing an impromptu picnic? No problem! Here's what to buy at the grocery store:
Crunchy snacks: Veggie tray and/or almonds and pistachios
Make-your-own wraps: Rotisserie chicken and/or slices of ham, turkey or roast beef and cheese slices from the deli and romaine lettuce leaves and/or low carb tortillas
Sweet treats: Fresh berries
And you can take your picnic to the next level with this low carb picnic menu, featuring fried chicken and an assortment of crunchy, savory and sweet low carb picnic side dishes and desserts that you can make ahead:
Get all the crunch and salty goodness without the carbs you find in chips.
Watermelon, Feta and Cucumber Salad
You'll be cool as a cucumber with this refreshing and light low carb and keto-friendly salad.
A picnic that has fried chicken is not complete without potato salad… or this low carb version.
You can serve this hot from the oven, chilled or at room temperature, which makes it perfect low carb picnic fare.
Salted Caramel Cheesecake Bites
These low carb and keto-friendly bites of salty caramel sweetness can be frozen for up to one month.
Fresh Fruit Kebabs with Almond Crème
There's nothing better than a juicy bite of fruit on a hot day, especially if it's dipped in almond crème.