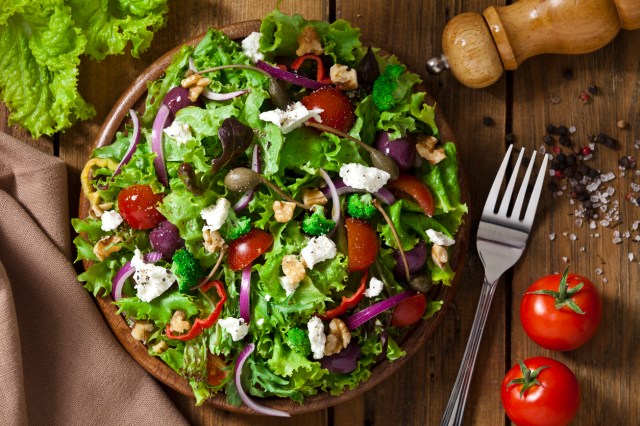 Low Carb Chopped Summer Salads for Every Occasion

Low Carb Chopped Summer Salad Recipes

How to Master a Mason Jar Salad

4 Tips for the Best Mason Jar Salad
Low Carb Chopped Summer Salads for Every Occasion
Low carb summer salads featuring fresh veggies and fresh flavors. Plus, 4 tips for mastering the best mason jar salad.
You can spice up your al fresco meals with a sensational selection of low carb summer salads suitable for any occasion: leisurely dinner on the patio, lunch at the office (think mason jars and anything portable) or the star of a potluck.
Low Carb Chopped Summer Salad Recipes
These low carb chopped summer salad recipes are assembled in minutes so you can beat the heat and maximize your time outside of the kitchen, whether you're entertaining guests or want a quick and easy weeknight salad. Simply chop your salad ingredients, combine and toss with a light vinaigrette.
Grab your favorite salad serving bowl and start with a bed of arugula. Pile on creamy chopped burrata cheese, pieces of savory prosciutto, Marcon almonds for some crunch, sliced strawberries for a bit of sweetness and herbaceous basil and toss with a balsamic vinaigrette for a colorful summer salad that you and your guests will love to dig into or that will serve the family.
You'll love this plant-based chopped salad! Toss chopped tomatoes, cucumber, hearts of palm, red onion, garbanzo beans and feta cheese in a large salad serving bowl. Drizzle with a light white wine vinaigrette infused with fresh basil and toss and refrigerate for at least 30 minutes to allow all the delicious flavors to meld. Garnish with more fresh basil
How to Master a Mason Jar Salad
A mason jar is a convenient way to prep, store, transport and eat your healthy low carb salad. Layering all the ingredients in the mason jar infuses them with flavor, and, when you tightly close the lid, you have an air-tight environment that preserves the freshness of the salad.
4 Tips for the Best Mason Jar Salad
Avoid a soggy salad by putting the heaviest ingredients at the bottom of the jar with the dressing, adding the lighter ingredients and topping with salad greens.
To start, select a mason jar. Wide-mouthed mason jars are best because it's easier to layer the salad and then shake it out again and eat.
Pint-sized mason jars: These are great for individual side salads
Quart-sized mason jars: Use these for larger lunch and dinner salads that have a lot of extra veggies and salad toppings.
Two-quart mason jars: These are perfect for shlepping your salad to a potluck or barbecue or picnic.
2. Once you've picked your mason jar, it's time to start layering your salad in the jar:
Layer one: Add the dressing first.
Keto-Friendly Salad Dressing Recipes
Layer two: Add chopped veggies like cucumbers, bell peppers, radishes, corn, broccoli and edamame.
Layer three: Add diced, crumbled or shredded cheese and protein like tuna; diced, cooked chicken; cooked shrimp; diced, cooked steak; hardboiled eggs or tofu. You can add any beans or grains to this layer as well.
Layer four: Add soft veggies and fruits like avocadoes, tomatoes and berries.
Layer five: Add nuts or seeds like sliced almonds, chopped pistachios and walnuts or sunflower seeds.
Layer six: Top with salad greens like arugula, spinach, mixed greens, kale, romaine or a combination. Be sure to tear into bite-sized pieces first.
3. Screw the lid tightly and refrigerate for three to five days.
4. When you're ready to eat your salad, shake the jar vigorously to mix the ingredients with the dressing, unscrew the lid and shake into a bowl or just grab a fork and dig straight into the mason jar and enjoy!