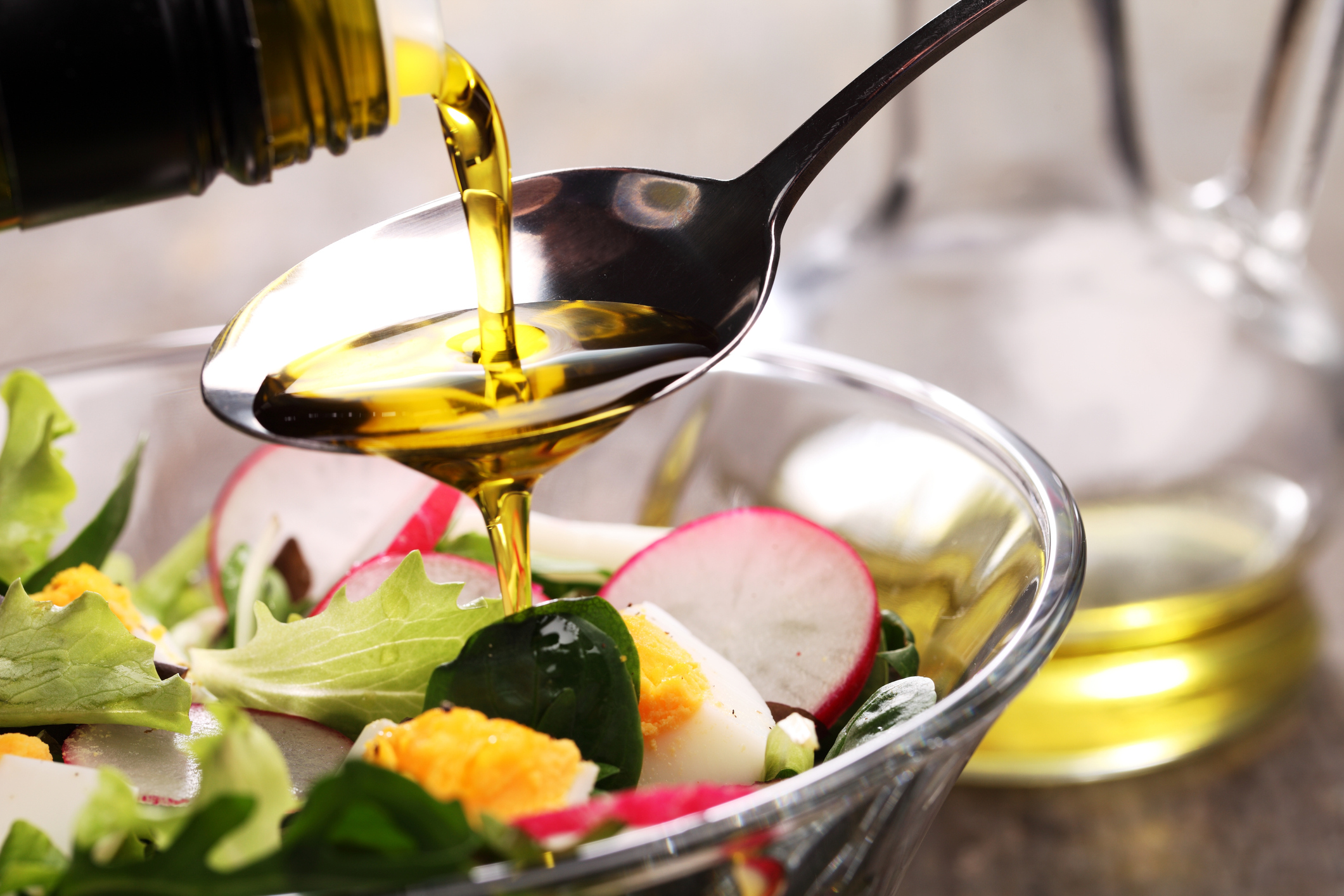 Salads are an excellent way of maintaining a ketogenic lifestyle both at home and on-the-go, but
it's not uncommon to find hidden carbs lurking within many store-bought and restaurant
dressings. Especially when in the first stages of adjusting to a low carb ketogenic diet like Atkins20® and Atkins40®*, every carb counts. That's why we've compiled a list of versatile favorites,
each under 2g net carbs per serving, to help you find the best keto-friendly salad dressings for
your table.
Sherry Vinaigrette
Vinaigrettes are a classic keto dressing, and a perfect place to start any low carb salad. These
simple emulsions of oil, vinegar, and seasonings bring plenty of flavor to any salad while
eliminating excess carbs. This sherry vinaigrette boasts 1g net carbs per serving and brings
brightness to dark, leafy greens, like kale or spinach.
Caesar Salad Dressing
When it comes to keto salad dressings, fat is your friend! Not only do healthy fats bring flavor to
your salad, but they also help you feel full, which eliminates cravings. This homemade Caesar
dressing, at 1.1 net carbs per serving, is great on classic Romaine lettuce; instead of croutons,
try adding parmesan crisps for a keto-friendly crunch. Just pat a tablespoon of parmesan into
rounds on a greased baking sheet and bake until golden and crispy.
Carrot-Ginger Dressing
A colorful dressing that doubles as a serving of vegetables: what could be better? While carrots
on their own aren't ordinarily appropriate for the induction phase of Atkins20®, a single serving
of this dressing has 2g net carbs and is packed full of fragrant herbs and spices like ginger,
tamari soybean sauce, and sesame oil. For a low carb take on Chinese chicken salad: combine
this keto-friendly salad dressing with iceberg lettuce, cabbage, scallions, sliced chicken, and
swap the wontons for slivered almonds.
Feta-Ranch Dressing
Put a twist on a classic keto dressing by combining creamy ranch with tangy feta. This dressing
is fantastic for those looking to get some extra protein; each serving has 1.2g of protein to keep
you feeling full and energized, and 0.8g net carbs to keep you on track. Try placing some of this
keto salad dressing in the center of a plate full of crunchy veggies for a Mediterranean-inspired
crudité.
Roasted Garlic Basil Dressing
The extra time you'll take to roast this garlic is more than worth it! 45 minutes in the oven
mellows garlic's natural pungency into a sweet, caramelized flavor. This recipe blends a head of
roasted garlic with basil, olive oil, and parmesan to create a decadent, keto-friendly dressing
with 0.8g net carbs per serving.
Once you've mastered the quick preparation of these dressings, don't be afraid to get creative
and add other low carb ingredients to these recipes to create a keto salad dressing that is all
your own. For even more inspiration, check out our library of over 1,600 recipes that are full in
flavor and low in carbs.
*To maintain ketosis, continue with Atkins 20 Induction.