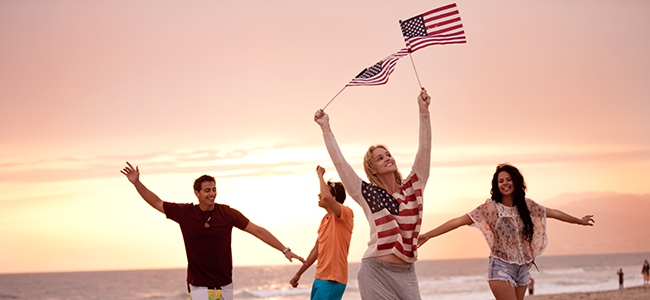 Plus, 12 low carb plant-based recipes hot off the grill
It's time to get out the sparklers and enjoy the fireworks while celebrating the 4th of July with food, friends, family and fun. You can make the most of the holiday with my tips for low carb grilling and low carb barbecue sauce, marinade and salad dressing recipes, as well as keto-friendly 4th of July recipes and my five favorite 4th of July low carb swaps. Plus, you can stay cool with these low carb summer drink recipes.
And, if you're ready to think beyond burgers, brats and steak, you can try these low carb plant-based dishes featuring grilled Portobello mushrooms, avocado, eggplant, zucchini and watermelon. They work equally well as main dishes, sides or even dessert.
Avocado: Elevate your avocado by grilling it, which gives it an intense smoky flavor. Slice in half and remove the pit, sprinkle with salt, drizzle with olive oil and a few squeezes of lime or lemon. Place the cut sides down on the grill and grill for two to three minutes. Then, all you need to do is grab a fork and dig into this delicious grilled treat. You can also top your avocado with salsa and pico de gallo and cheese, or slice it and add to a salad or burger or serve as a side.
Corn: Corn on the cob goes hand in hand with any outdoor feast. Try Grilled Corn on the Cob with Lime-Cilantro Butter.
Eggplant: Add some pizzaz to your 4th of July with low carb grilled eggplant recipes like Grilled Eggplant with Vinaigrette and Pecorino Cheese or Grilled Eggplant with Mint Sauce. They work great as either main dishes or sides.
Peaches: Simply cut a peach in half and grill for about five minutes, until softened. Slice and serve as a sweet treat, as a garnish in salad or on top of grilled chicken.
Pineapple: When you throw wedges of pineapple on the grill, it adds a caramel-like sweetness. Try this grilled pineapple recipe.
Portobello mushrooms: These savory mushrooms are hearty enough to wrap up in a lettuce leaf like a burger or slice and eat like a steak. Whip up a marinade with olive oil, minced garlic, red wine vinegar, fresh herbs of your choice and salt and pepper and drizzle over the Portobello mushrooms. Throw them on the grill for about 15 to 20 minutes, until they are juicy and tender. Continue to turn the mushrooms and baste frequently with the marinade.
Tofu: This vegetarian mainstay tastes great when you grill it. Try Grilled Tofu with Peanut Sauce or Mediterranean Grilled Tofu.
Watermelon: Grilling gives sweet and refreshing watermelon an added level of flavor. Cut into small wedges, drizzle with olive oil, lime juice and a little salt. Toss with mint and feta for an easy and unique side dish or dip into Greek yogurt for a delicious dessert.
Zucchini and squash: The options are endless when it comes to zucchini and squash. You can start with summery Grilled Green and Yellow Squash with Basil or Zucchini Fans.