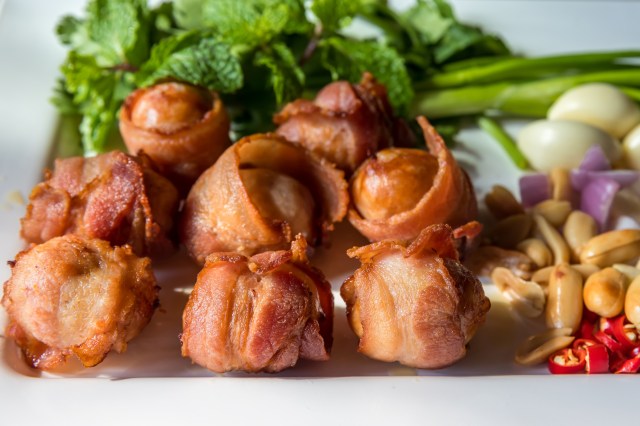 4 Low Carb Tailgate Finger Food Recipes
6 Important Low Carb Tailgate Rules
Game On: Low Carb Recipes for Tailgates
Low carb versions of popular tailgate finger food and winning tailgate strategies.
Cheer your team on from the comfort of your couch or at a tailgate with these brand-new low carb tailgate recipes.
4 Low Carb Tailgate Finger Food Recipes
You can forgo utensils and pop these delicious tailgate snacks right in your mouth. They have all the cheesy and crunchy goodness of typical fried treats, minus the heavy load of carbs.
What can be better than crunchy bacon encasing a juicy pickle, with a gooey cream cheese-cheddar filling? The result is an explosion of flavors and textures in your mouth, and it's far tastier than your typical fried pickle appetizer. If you don't have an air fryer, these crisp up just fine in the oven.
Bring these to any tailgate or watch party and these poppers will be gobbled up in minutes. Be ready for a hit of heat, which is dampened a bit with the cream cheese-Monterey Jack filling.
If you thought pigs in a blanket were a no-go on your low carb lifestyle, the good news is, you can enjoy these without guilt. These little sausages are wrapped in a low carb dough that uses coconut flour, plus egg and a blend of cheeses.
These hearty little treats have a nice pop of protein thanks to the eggs and sausage. You can swap out any low-sugar barbecue sauce for the Atkins' barbecue sauce recipe. Read the label and look for anything with less than 5 grams of sugar per serving. Keep in mind that you're only using 1 teaspoon of barbecue sauce for this entire recipe.
More Low Carb Tailgate Strategies
More ways to make your tailgate or game day spread a low carb win.
Plus, low carb tailgate sauce recipes for chicken, ribs and more.
Take a few tips from our "low carb tailgate playbook".