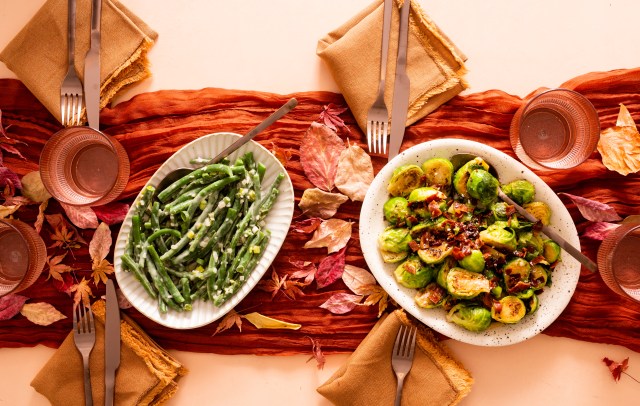 Low Carb Thanksgiving Holiday Table
Low carb and keto Thanksgiving recipes and 8 tips for a low carb Thanksgiving.
Turn your Thanksgiving holiday table into a delicious low carb masterpiece with these fresh, new low carb takes on traditional Thanksgiving recipes.
New Low Carb and Keto Thanksgiving Side Dishes
These low carb and keto side dishes, which focus on vibrant vegetables and fresh flavors, are the perfect opening acts for the turkey main event.
Skip the green bean casserole or green beans almondine for green beans that are blanched, so they remain crisp and bright green. They are then tossed in a creamy mixture of almond milk and heavy cream and fresh scallions and shallots.
Roasted orange bell peppers bring vibrant color to your Thanksgiving holiday table. Once they come out of the oven, they are drizzled with a walnut-parsley relish.
This low carb version of mac and cheese swaps macaroni for cauliflower and jalapenos give it a spicy kick. Diced bacon adds crunch, and it's all enveloped in cheddar and cream cheese and topped with parmesan and almond flour that browns to crisp while baking. It's garnished with more bacon and sliced jalapenos.
Every Thanksgiving holiday table needs warm biscuits slathered with butter, and these savory cheddar-garlic biscuits only have 2.5 grams of Net Carbs.
Brussels sprouts are the star of this tasty side dish, while bacon adds crunch and Parmesan cheese and heavy cream bring decadent creamy richness.
All the Rest: Turkey, Gravy, Stuffing and More (Low Carb and Keto) Thanksgiving Favorites
You can start with easy finger foods for everyone to graze on while waiting for the turkey to roast to perfection. Deviled eggs or a charcuterie board featuring sliced cheese and salami, almonds and olives are delicious small bites.
This is your go-to recipe checklist for all the Thanksgiving dishes that can complete your Thanksgiving holiday table.
These are my strategies for making the most of Thanksgiving while sticking to my low carb lifestyle.