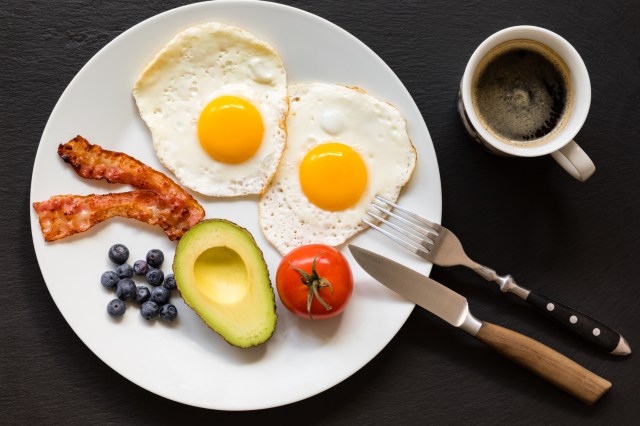 Low Carb and Keto Breakfast Recipes

Low Carb Breakfast Recipes for Weekdays

Chai Latte Overnight Oats

Keto Pumpkin Latte Protein Muffins

Strawberry Shortcake Bar Breakfast Bowl

Low Carb Brunch Recipes for the Weekend

Low Carb Slow Cooker French Toast Casserole

Keto Air Fryer Biscuits and Sausage Gravy

Keto Cauliflower Hash Brown Patties

Convenient Tools for Low Carb Cooking

Five Tips for Cooking with a Slow Cooker or Instant Pot
Low Carb and Keto Breakfast Recipes
Whether it's a rushed weekday or leisurely weekend, you'll love these low carb breakfast recipes, which go beyond the traditional low carb "eggs and bacon" breakfast. Plus find out how kitchen tools like a slow cooker, Instant Pot or Air Fryer can help you make these low carb breakfast recipes.
Low Carb Breakfast Recipes for Weekdays
Convenience is key on busy weekdays. These low carb breakfast recipes can be prepared in advance so all you must do is grab and go when every minute matters. You'll also get a boost of nutrient-rich ingredients, such as chia seeds, hemp hearts, flax meal and pumpkin.
You'll love the crunchy toasted pine nuts and coconut shreds that top these individual jars of overnight oats. Just grab a spoon and enjoy.
These muffins get their protein from whey protein, while pumpkin puree and pumpkin pie spice infuse them with flavor and instant espresso powder adds a little caffeine kick. You can make these muffins in advance and freeze them and reheat quickly for a muffin on the go.
The hemp hearts in this breakfast bowl give it a mild, nutty flavor. Fresh strawberries complete the bowl with a dollop of creamy Greek yogurt, and a crunchy Atkins® Strawberry Shortcake bar as a garnish. You can throw together the ingredients the night before and then assemble your bowl quickly in the morning.
Low Carb Brunch Recipes for the Weekend
When you have time to relax over a leisurely weekend breakfast, these low carb brunch recipes fit the bill for full-on flavor. Take your pick of a main brunch entrée—savory or sweet—and pair with crispy keto cauliflower hash brown patties.
You may have thought French toast was a thing of the past if you're living a low carb lifestyle, but this low carb French toast casserole uses keto bread, eggs and heavy cream, and is infused with the flavors of sugar-free maple syrup, vanilla, cinnamon, ginger and nutmeg and topped with a crumbly and crunchy streusel of pecans and butter. The bread mixture can be made in advance and refrigerated overnight, and then popped in the slow cooker in the morning for two hours at high or four hours at low.
Keto biscuits made with almond flour, coconut flour and flax seed meal are baked and crisped to perfection in an Air Fryer and then bathed in a savory sausage gravy for a deliciously homemade keto brunch dish.
Grated cauliflower subs for potato in these crispy and cheesy hash brown patties that are coated in a crunchy pork rind and Parmesan cheese crust. Even better, one serving comes in at a little over 2 grams of Net Carbs.
Convenient Tools for Low Carb Cooking
You'll notice these some of these low carb breakfast recipes used a slow cooker, Instant Pot or an Air Fryer to add a level of make-ahead convenience. You'll find that a slow cooker, Instant Pot and Air Fryer are valuable kitchen tools when making your favorite low carb recipes for breakfast, lunch or dinner.
These tips work for a slow cooker or Instant Pot. An Instant Pot also has the added functions of sautéing, pressure cooking and yogurt making.
From tasty low carb breakfast dishes to guilt-free appetizers, you'll find an Air Fryer has many functions that will fit with your low carb lifestyle.