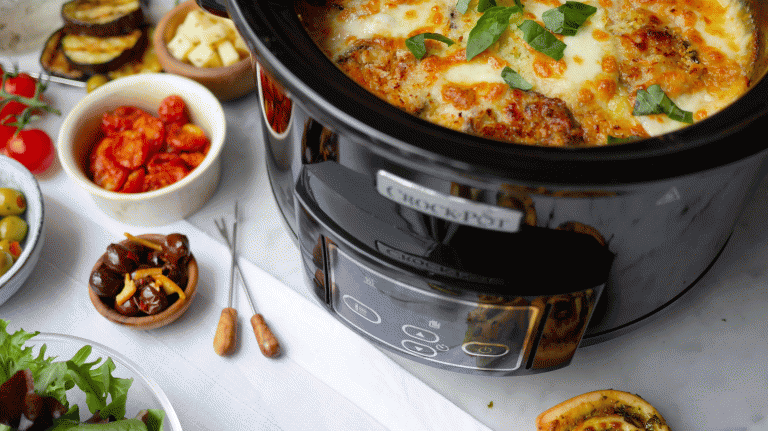 Low-carb meals are a breeze when you have a slow cooker, especially during this time of year, when the sun sets sooner, nights have a chill to them and coming home to the comforting and delicious smells of a rich and satisfying low-carb meal that has been slowly simmering for hours is the perfect end to a hectic day. Here are my tips for successful low-carb slow cooking:
Keep your ingredients on hand. Stock your freezer with chopped, frozen veggies and packages of ground beef, flank steak, chicken thighs and breast and sausage, and fill your pantry with cans of diced tomatoes, chicken and beef stock and spices.
Prep the night before. Thaw out any frozen ingredients, cut and trim meat, chop vegetables, measure out dry ingredients and prepare any sauce if necessary so all you have to do in the morning is add the ingredients to your slow cooker (reheat any sauce that you made before you add it). If your slow cooker has a removable insert, once you prep your ingredients, you can add them all to the insert, remove it from the slow cooker and refrigerate it overnight. In the morning, bring the insert to room temperate for 30 minutes to an hour (while you're getting ready), and then set the slow cooker to your desired time before you head out the door.
Boost the flavor. Browning your meat and sautéing veggies pumps up the flavor of your low-carb slow cooker meal, and it's definitely worth the extra few minutes it takes to do this. Toward the end of the cooking time, you can add fresh herbs, lemon juice, lime juice, citrus zest, hot sauce, grated Parmesan, olive oil, sautéed garlic, shallots or ginger to brighten the flavor of your dish.
There are many low-carb recipes that can be modified to cook in your slow cooker. Look for key words like braised and slow-roasted and dishes like soups, stews or chili. These are all perfect for your slow cooker if you follow these tips:
Watch the liquid. Since slow cookers stay covered the entire time your food is cooking, steam accumulates and any liquid that you add doesn't evaporate, which means a dish that is supposed to thicken as it cooks may end up more watery when prepared in a slow cooker. Reduce the liquid by almost half from the original recipe. If the original recipe does not call for liquid, add ½ cup water or broth. If your dish is still a little too watery by the end of the cooking time, you can remove the lid to let the liquid reduce or remove the insert and finish on a stove top.
Time it right. If the original cooking time for your recipe is about an hour, set your slow cooker to four hours on HIGH, and no more than six hours. If the original cooking time for your recipe is over an hour, you can set it for eight hours or more on LOW.
Ready to get started? You can get cooking with these low-carb recipes, perfect for your slow cooker:
Chicken Braised in Red Wine with Mushrooms
Pork and Vegetable Stew Italiano