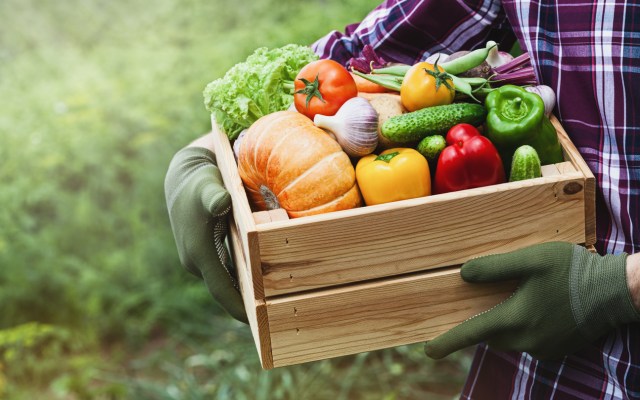 In this article:
From Garden to Table: Low Carb Garden Harvest Recipes
Recipes featuring veggies in season: Zucchini, green beans and snow peas.
If you have a home garden (or friends with home gardens who like to share) or frequently hit your farmers' market or farm stand, you know there's nothing more delicious than whipping up a meal made from the freshest veggies currently in season. It may also be a more sustainable and budget-friendly approach, since transporting fruits and vegetables to your grocery store costs more and may have a negative impact on the environment.
Keep reading for low carb recipes that will make the most of your home garden harvest or farm stand finds.
Low Carb and Keto Recipes Using Seasonal Veggies
Try these low carb and keto-friendly recipes, great for breakfast, lunch and dinner, featuring zucchini, green beans and snow peas:
Sauté slices of tender zucchini with green onions and then combine with eggs, goat cheese and basil for a savory frittata minus the carb-laden crust of a typical frittata. Enjoy a slice for breakfast or add a side salad for a heartier lunch.
The zucchini in these keto-friendly muffins keep them moist. They make a great grab-and-go breakfast, with 10 grams of filling protein. Slather them with cream cheese if you'd like.
This one-pan meal comes together in minutes and is the perfect use for your fresh zucchini on a busy weeknight. You can also substitute Italian sausage or ground beef.
With the additions of blanched green beans and artichoke hearts, this could be considered a heartier version of a traditional caprese salad.
This Asian-inspired salad gets all its crunch from the snow peas, red bell pepper and cabbage. Pair with grilled chicken or fish.
Plant a Home Garden
While the season has passed to plant a home garden, it is something to consider doing next spring. You can reap the money-saving benefits of having sun-kissed and nutrient-rich fresh vegetables, which are naturally low carb and keto-friendly, at your fingertips.