Keto Zucchini Frittata Recipe
---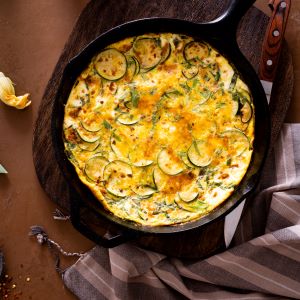 3.9g
Net Carbs
Prep Time: 10 Minutes
Style:American
Cook Time: 25 Minutes
Phase: Phase 1
Difficulty: Difficult
* Any adjustments made to the serving values will only update the ingredients of that recipe and not change the directions.

How to Calculate Atkins Net Carbs
How to Calculate Atkins Net Carbs
Atkins Net Carbs = Total Carbohydrates – Fiber – Sugar Alcohols/Glycerin (if applicable)
×
---
INGREDIENTS
2 tablespoon Extra Virgin Olive Oil

2 medium Zucchini

0 1/2 cup, chopped Scallions or Spring Onions

1 tsp Salt

0 1/4 tsp Crushed Red Pepper Flakes

8 large Egg (Whole)

4 oz Goats Cheese (Soft)

2 oz Basil
DIRECTIONS
Place broiler rack on second tier from heat source and preheat broiler.

Heat 1 tablespoon of oil in a 12-inch nonstick ovenproof skillet over medium-high heat. Slice zucchini, add to pan and cook 10 minutes, turning the slices as they brown. Add green onion; sprinkle with 1/2 teaspoon salt and crushed red pepper. Cook 2 to 4 minutes, until zucchini is golden and tender; transfer to a bowl. Wipe down skillet.

Whisk eggs, goat cheese, basil and remaining 1/2 teaspoon salt in a bowl.

Heat remaining 1 tablespoon oil in skillet over medium-high heat; add egg mixture and cook 1 1/2 minutes to set bottom.

Spoon zucchini mixture evenly over top; reduce heat to medium-low, cover and cook 5 to 6 minutes until edge is set and puffed.

Uncover, transfer to broiler and broil 1 to1 1/2 minutes, just until top is set and lightly golden. Serve immediately.
Cooking Tip
Whether you're feeding a family or cooking for one, you can update the serving settings above to reveal the required amount of ingredients.