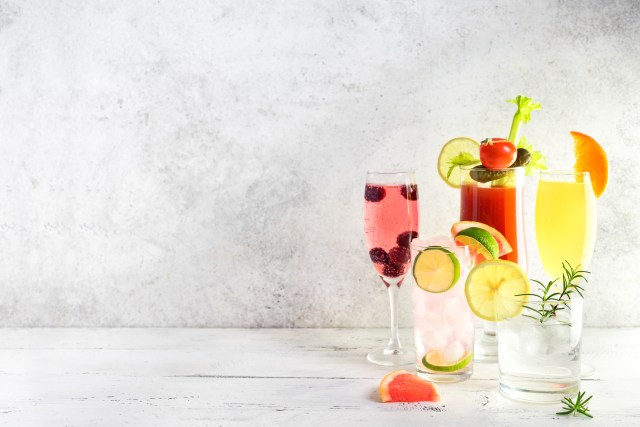 Recipes for a Low Carb Easter Dessert Table

4 Tips for Setting Up Your Easter Dessert Table

5 Low Carb Easter Dessert Table Recipes

Low Carb Bloody Mary and Mimosa Recipes for Easter

How to Make a Low Carb Mimosa
5 Recipes for a Low Carb Easter Dessert Table
A dessert table can be a fresh and fun addition to your Easter brunch.
A typical dessert table consists of a beautiful array of various sweets, from cake to cookies and candy. While that does not exactly scream "low carb", you can add a deliciously sweet and low carb option to your traditional Easter brunch with low carb dessert table recipes. Add a pitcher of Bloody Mary's with all the fixings or low carb mimosas, and you've just taken your Easter brunch to the next level.
4 Tips for Setting Up Your Easter Dessert Table
To start, set aside a table or area in your kitchen or dining room that your guests can easily access.
Cover with a tablecloth. You can also use multiple tablecloths spread on top and gathered into ridges to add texture and interest to your dessert table. Think bright spring and Easter colors such as pastels.
Decorate your dessert table with fresh flowers in vases of various heights and bowls of colorful dyed Easter eggs and any other Easter décor you may have on hand.
Gather serving dishes for your desserts. Cake platters, serving dishes and bowls all work great.
5 Low Carb Easter Dessert Table Recipes
Scones and cinnamon rolls go well with your Easter dessert table's brunch theme. You can pick one recipe or make both to accompany the other low carb sweet treats. You can include bowls of fresh berries for more color and low-glycemic sweetness.
Fresh blueberries add juicy sweetness to these scones, while a tart lemon glaze is the finishing touch.
There's nothing better than warm cinnamon rolls drizzled with cream cheese frosting—especially if each cinnamon roll is less than 4 grams of Net Carbs.
You'll want to grab a piece of this crunchy-chocolatey bark drizzled with peanut butter.
The combination of blueberries and white chocolate makes for the perfectly chewy, gooey cookie.
These chilled cheesecake bars feature a creamy fresh strawberry filling.
Low Carb Bloody Mary and Mimosa Recipes for Easter
Create a "bar" area where you can set up a pitcher of Bloody Mary's or "make-your-own" mimosas.
Sriracha adds a kick of heat to this Bloody Mary recipe. Set out a pitcher of the Spicy Blood Mary mixture and glasses rimmed in black pepper. Add ice and vodka, and let your guests add the garnishes of their choice: bacon, celery, olives, lemon slices, dill pickle spears or pickled jalapenos.
How to Make a Low Carb Mimosa
The orange juice you usually find in mimosas has a lot of sugar. Swap your OJ out for orange-flavored sparkling water (or any fruit-flavored sparkling water of your choice). Include just a splash of OJ (1 tablespoon has 1.6 grams of Net Carbs) or other juice, such as grapefruit or blood orange. Use a dry sparkling white wine like Champagne, Cava or Prosecco, and slices of strawberries for garnish.
Low Carb Easter Recipes
You can round out your Easter gathering with low carb Easter brunch and dinner recipes. Just don't forget to save room for dessert.
Low Carb Spring Brunch Tips and Recipes