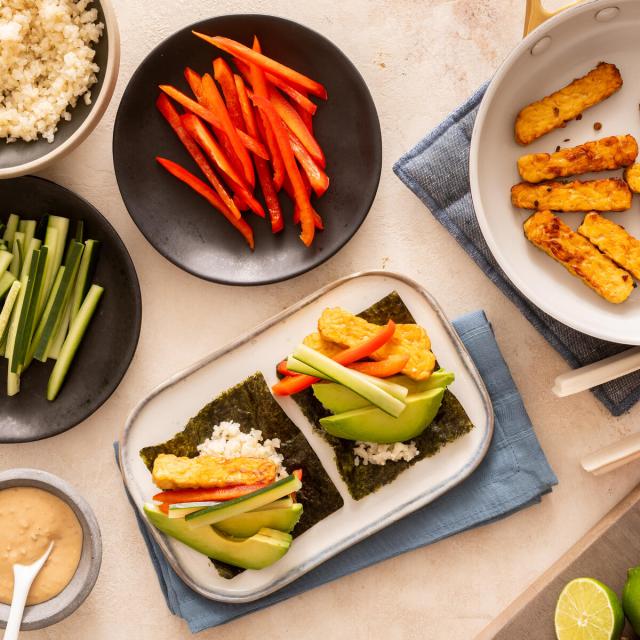 Delicious nutrient-rich recipes and strategies for your vegetarian or vegan low carb lifestyle.
Following a vegetarian or vegan diet while going low carb can be challenging, but you can do it with careful planning and creativity. Atkins 100 is a great option for vegetarians and vegans. Vegetarians can get their protein from eggs, legumes, nuts, and dairy and soy products. Vegans can get sufficient protein from seeds, nuts, soy products, soy and rice cheeses, seitan, legumes and high-protein grains like quinoa.
Tips for Vegetarians and Vegans Following Atkins
A vegetarian or vegan low carb lifestyle can be a satisfying and healthful way to eat, especially if you stick with these tips:
Know your protein sources: Eggs, Greek yogurt and hard cheeses work for vegetarians. For vegans and vegetarians, you can try tofu, tempeh, seitan and edamame. You can also explore vegetarian and vegan protein powders that give your smoothies or smoothie bowls an added protein boost.
Pick the right vegetables: Fill your plate with leafy greens, broccoli, cauliflower, zucchini, cucumber, peppers and mushrooms. Limit starchier veggies like potatoes, corn and peas.
Focus on healthy fats: Avocados, nuts, seeds, olives, olive oil and coconut oil and grass-fed butter (for vegetarians) can add flavor to your dishes, help satisfy your appetite and give you energy without extra carbs.
Watch out for hidden carbs: While a product may say it's vegetarian or vegan, read the label carefully, as the product may be a sneaky source of carbs. Watch out for added sugars in sauces, dressings and marinades.
Embrace low carb alternatives: Use almond flour or coconut flour instead of traditional flour. Swap pasta for zucchini noodles or spaghetti squash. Turn cauliflower into cauliflower "rice, pizza crust or mashed "potatoes".
Plan and prep meals: Planning your meals and snacks can make it easier to stick to a low carb vegetarian or vegan diet.
Find a community: Get support from fellow vegetarians and vegans who are going low carb. You can start with the Atkins' community, where you can join like-minded groups or start your own. You can share tips, recipes and insights.
A Low Carb Vegetarian and Vegan Meal Plan
Jumpstart your low carb vegetarian or vegan lifestyle with nutrient-dense, plant-based low carb meals and snacks:
Breakfast: You can't go wrong with eggs, which are naturally low in carbs and a great source of protein, if you're a vegetarian. You can also get your vegan egg fix with Vegan Garden Vegetable Frittata. And both vegans and vegetarians can enjoy Chia Pecan Overnight Oats.
Lunch: You'll get your fill of fresh, fiber-rich veggies with Vegan Chickpea Penne Salad or Vegetarian Ramen Zoodle Bowls.
Dinner: Vegan Chipotle Chili is a heartier low carb vegan option, while Mediterranean Grilled Tofu will satisfy vegans and vegetarians alike. Vegetarians can try Stuffed Peppers and Zucchini Pasta with Almond Pesto.
Snacks: Get a sweet fix with Vegan Nut, Seed and Energy Balls or elevate your snack game with Low Carb Nori Wraps with Ginger Tempeh (these also make a tasty light lunch).