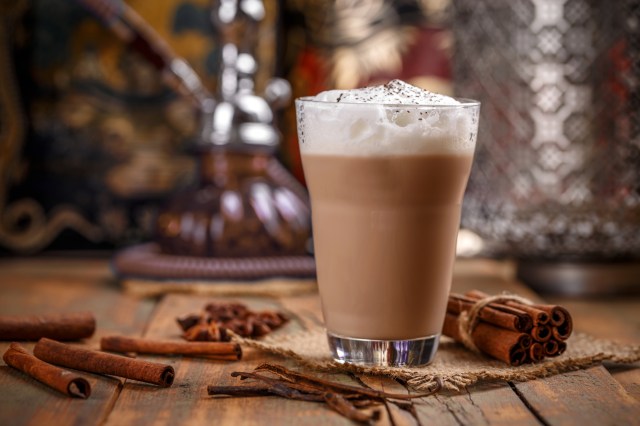 What is Chai?

Low carb Chai Latte Smoothie Recipes

More Low Carb Chai-Inspired Recipes
New Low Carb Chai Latte Smoothie Recipes
Elevate your low carb smoothies with the flavors of chai.
Low carb smoothies are a convenient and portable way to get a quick and easy boost of nutrients and energy when you don't have the time to prepare an entire meal, let alone sit down and eat it. You can drink your low carb smoothie anywhere: on your commute, at your desk or during school drop-off. When you make your own smoothie, you're in control of the quality of the ingredients, and you can ensure that it's lower in sugar and carbs than many alternatives.
What is Chai?
Chai, which translates to "tea" in Hindi, is black tea typically infused with the flavors of cardamon, cinnamon, cloves and ginger.
Low Carb Chai Latte Smoothie Recipes
These Chai Latte Smoothies use Atkins' new Chai Tea Protein Shakes (3g Net Carbs), which adds to your smoothie convenience factor, and are inspired by the flavors of traditional chai. You can kick off your morning with one of these delicious smoothies or spice up your afternoon snack, while getting a chai-flavored protein boost.
TIP: The secret to these thick and creamy smoothies is chilling the protein shake in the freezer beforehand.
Golden milk is a traditional drink in the Indian culture that is typically made with warm milk and turmeric, as well as other spices such as cinnamon and ginger. This smoothie, inspired by golden milk, has coconut milk, fresh ginger, and, of course, turmeric.
Pureed pumpkin (a low carb pantry essential for all sorts of recipes) adds a nutrient boost while pecans give your smoothie a little crunch.
This smoothie will satisfy your afternoon chocolate cravings, while fiber-rich chia seeds will keep your full for longer.
More Low Carb Chai-Inspired Recipes
If you're in the mood for more chai (not just a chai smoothie), try these low carb chai recipes.
If you like to dig your spoon into something instead of sipping on a smoothie in the morning, breakfasts are a breeze with these tasty chai-flavored overnight oats, which feature a nice boost of fiber thanks to oats, chia seeds and hemp hearts. They are topped with crunchy coconut and pine nuts.
You'll love a steaming and comforting mug of this Keto Chai Spice and Coffee Latte, which has added protein from an Atkins Café Au Lait shake.
This cool, refreshing and creamy iced tea uses Spiced Chai Black Tea for true chai flavor, plus a little caffeine to help you sail past that afternoon dip in energy.