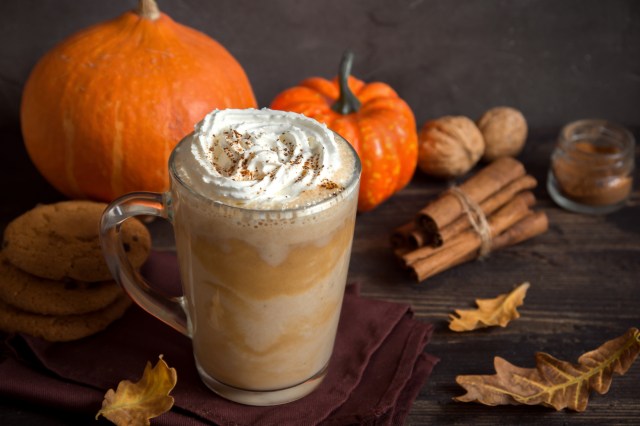 ItIt's that time of the year when anything pumpkin spice begins to sound cozy and nice, but in most cases, is packed with too much sugar.  Our advice? Stick with pumpkin pie spice or canned pumpkin so you can enjoy the pumpkin flavor without a ton of sugar.
These low carb pumpkin spice recipes begin with a breakfast yogurt parfait, a low carb pumpkin spice latte option, a delicious pumpkin-themed smoothie for a low carb snack or light meal, a savory pumpkin soup for dinner and last, but not least, indulgent low carb pumpkin cookies.
Low Carb Pumpkin Spice Yogurt Parfait
This low carb version of those sugary, ready-made yogurt parfaits you see in your supermarket dairy section features a delicious crunch thanks to Atkins Chocolate Sea Salt Caramel Crunch Bites.
You can serve this Low Carb Pumpkin Spice Latte steaming in a mug or blended and chilled.
Keto Caramel Pumpkin Pie Shake Smoothie
This super easy smoothie blends up in minutes, whether you're craving a light meal or an afternoon snack to soothe your sweet tooth.
Continue the pumpkin theme with a savory pumpkin soup featuring creamy coconut and curry spices that works great for lunch or dinner. Add shredded rotisserie chicken for a little extra protein.
Keto Small Batch Pumpkin Chocolate Chip Cookies
Hopefully you saved room for dessert, as a Keto Small Batch Pumpkin Chocolate Chip cookie will hit the spot.