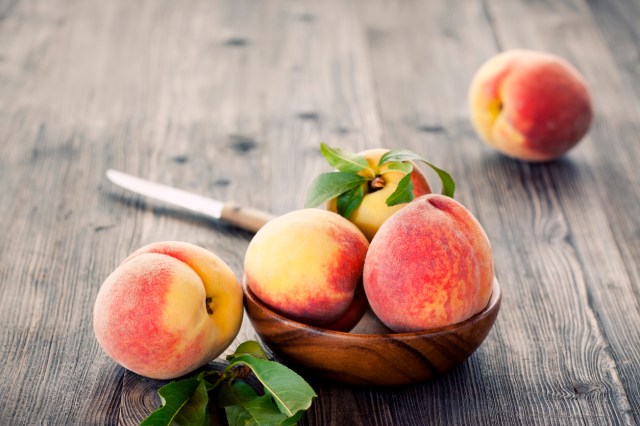 2 Important Health Benefits of Peaches

New Low Carb Peach Recipes for Summer

Low Carb Peach Dessert Recipes
Everything's Peachy
Low carb recipes inspired by fresh peaches.
There's nothing like a sun-kissed, juicy peach that screams summertime, and peaches are a delicious complement to salads, main dishes and desserts.
2 Important Health Benefits of Peaches
In addition to being a good source of vitamins, peaches are:
Rich in soluble and insoluble fiber, which helps digestion and to keep your appetite under control
Rich in antioxidants, which are compounds found in plants that may fight oxidative damage from inflammation and help protect your body against aging and disease. Fresh peaches tend to have higher levels of antioxidants than canned peaches.
New Low Carb Peach Recipes for Summer
These peachy low carb recipes are a great addition to your summer dinner menus:
Peaches give this light summer salad a hint of sweetness while radishes add a crunchy bite. Serve it with any main dish off the grill.
Pork tenderloin is marinated in a mixture of lime, garlic, olive oil and cilantro, then grilled and topped with a peach salsa that gets its kick from jalapeno.
Low Carb Peach Dessert Recipes
You can make the most of your extra peaches with low carb sherbet and ice cream:
This fruity and creamy sherbert features chunks of fresh peaches and will keep in the freezer for up to a month.
Blackberry Peach Compote adds a pop of color and flavor to coconut lemon ice cream.