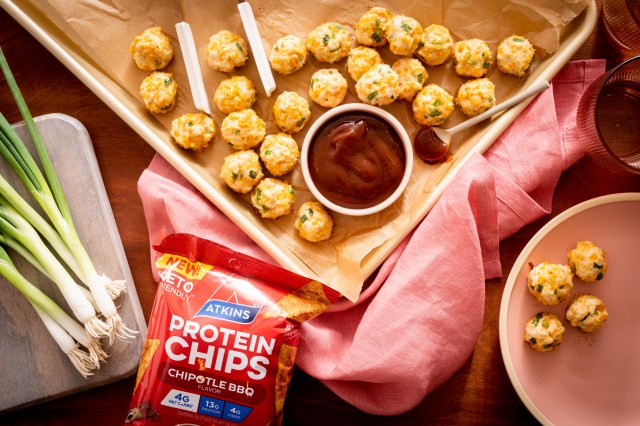 It's game on with these tasty low carb recipes.
Whether you're all about the game or all about the halftime performance and commercials, the biggest day of the year for football typically involves a lot of food, most likely fried, breaded and otherwise laden with carbs. You can keep your game day celebration low carb with these delicious low carb options for meatballs, pizza, burgers and wings.
These barbecue meatball bites, which are slathered in low sugar barbecue sauce, are ready for the game in a little over 30 minutes. They are easy to prepare and easy to share, and perfect for any potluck.
A chaffle is a waffle made with cheese, and it can be either sweet or savory. Here, your chaffle serves as the crust for mini pepperoni pizzas topped with melty mozzarella cheese.
You can't go wrong with a juicy burger. Keep it simple and set up a burger bar and let everyone make their own.
You won't be winging it with these low carb wing recipes.
From dips to crisps and cookies, this is low carb game day finger food at its best.
At the Sports Bar? 6 Winning Low Carb Tips for Eating Out
Sports bars can be full of potential penalties, but if you review the menu in advance, you can scope out some potential low-carb options and have your gameday strategy set. Some other tips:
Avoid sauces. Order a dish prepared without sugar or starches.
Watch out for dishes that have the terms "breaded", "battered", "crispy", and, of course, "deep fried". Look for terms like "roasted", "grilled", "pan-fried" or "poached."
Pare down your portions. Share a dish with a friend or take half home.
Switch up your sides. Request a side salad or extra steamed veggies instead of rice or potatoes.
Ban the bun. You can still savor a juicy hamburger; just ask for it without the bun or have it wrapped in lettuce.
Stick with salad. When in doubt, you can't on wrong with a large salad topped with salmon, chicken or another source of protein.