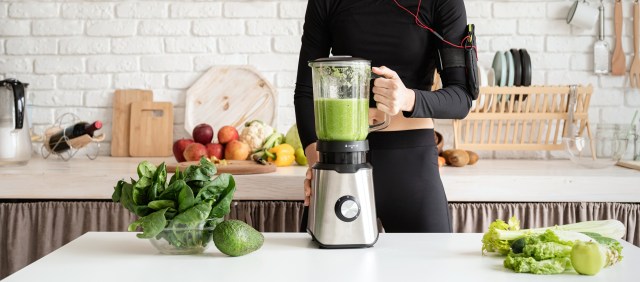 It's not always easy to include veggies in non-egg-based breakfasts, but smoothies are a tasty and convenient way to "hide" veggies. Whether you're trying to sneak more veggies into your kids' smoothies or you're a busy grown-up who is trying to get in your 12 to 15 grams of Net Carbs a day, these low carb caramel smoothie recipes are the perfect healthy start to your fall day or serve as a caramel-rich afternoon snack with a boost of veggies.
Avocado is a great addition to any smoothie as it includes healthy fats while thickening the smoothie without adding too much flavor.
Low Carb Caramel Apple Shake Smoothie
Here's a good-for-you version of a caramel apple that won't stick to your teeth, which you can also sip during your commute. In addition to fiber-rich apple, you get your veggies in with the addition of frozen cauliflower rice, which adds thickness and keeps your smoothie colder for longer.
Low Carb Salted Caramel Peanut Butter Shake Smoothie
Cucumber is mild and adds texture, while natural creamy peanut butter provides satisfying healthy fats and a lot of flavor.