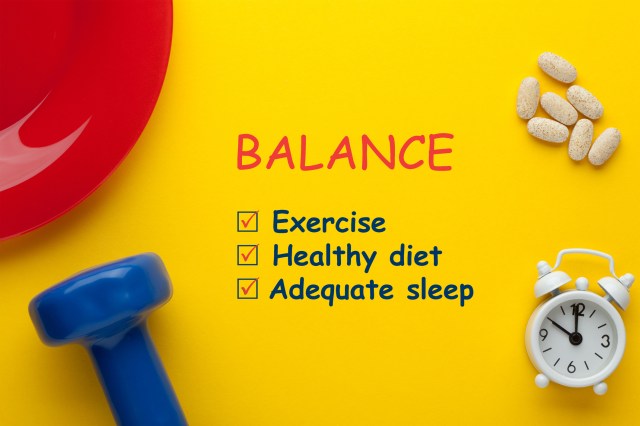 Scare off Stress Eating4 Tips for Stopping Stress Eating

Plan Your Low Carb and Keto Meals

Tips for Low Carb Meal Planning

Stock Your Low Carb Pantry

Low Carb and Keto Cooking Essentials for Your Pantry

Low Carb and Keto Protein Picks for Your Pantry

Low Carb and Keto Condiments for Your Pantry

Low Carb and Keto Snacks for Your Pantry

Low Carb and Keto Baking Essentials for Your Pantry

Shop for Your Low Carb and Keto Meals

6 Smart Tips for Low Carb and Keto Shopping

Make Your Low Carb Meals Stress Free with a Little Prep

How to Prep Low Carb Meals

Perfect the Art of Low Carb Cooking on Weeknights

Recipes for Low Carb Batch Cooking

Delicious Low Carb Sheet Pan Recipes
5 Tips for Healthier Low Carb Habits and Scaring Off the Sunday Scaries
Sunday "scaries" is a term coined for that feeling of anxiety that builds up over the course of a Sunday as you start anticipating the week ahead, but when you create healthier low carb habits, from getting your grocery shopping on point to perfecting your pantry and planning and prepping your meals for the week, you'll be able to master Monday, and the rest of the week.
1) Scare off Stress Eating
Stress eating is often considered a way to cope when you are dealing with a stressful situation, but it is not a healthy way to handle things. It is important to focus on some strategies that will help you change these stress-induced eating habits.
2) Plan Your Low Carb and Keto Meals
Take some time to consciously plan your meals. Think of what you might have planned for the week ahead and anticipate what meals you may need, for example, quick make-ahead meals for busy nights or something more special for a leisurely family dinner.
3) Stock Your Low Carb Pantry
A well-stocked pantry will help you set the stage for stress-free low carb cooking. The first rule of thumb when you are organizing and stocking your low carb pantry is to read your labels. If you're doing Atkins 20, pick products that have 3 grams of Net Carbs or less; Atkins 40: 5 grams of Net Carbs or less; Atkins 100: 15 grams of Net Carbs or less.
Low Carb and Keto Cooking Essentials for Your Pantry
Cooking oils like avocado oil, canola oil, coconut oil, flaxseed oil, grape seed oil, extra-virgin olive oil, peanut oil, sesame oil or walnut oil.

TIP: You can use these oils to sauté, bake, stir-fry, or drizzle for splash of flavor.

Low carb canned soups, such as cream of mushroom or cream of chicken, tomato, vegetable, broccoli and vegetable cream soups and butternut squash soups.

TIP: Cream of mushroom and cream of chicken soups make a good base for low carb casseroles with cauliflower rice, sauteed chicken, mushrooms, spinach, or other veggies (or protein) of your choice.

Canned veggies, beans, and fruits: Tomatoes, tomato paste, sundried tomatoes, roasted red peppers, artichoke hearts, green chiles, jalapenos, sauerkraut, kimchi, chickpeas, black beans, cannellini beans or pureed pumpkin.
Sauces: Low-sugar tomato sauce, pesto, etc.
Vinegars: Apple cider vinegar, white wine vinegar, red wine vinegar, rice vinegar

TIP: Vinegars add a boost of flavor for salads, stir fries and more.

Vegetable, chicken and beef stock or broth
Vegetable, chicken, or beef bouillon
Crushed garlic (refrigerate upon opening)
Chili paste, harissa paste, miso pastes and fish sauce
Dried herbs and spices
Salsas
Whole grains lower in carbs, such as oats, quinoa, bulgur, and popcorn

TIP: To cut back on your carb count, use whole grains as garnishes instead of as side or main dishes.
Low Carb and Keto Protein Picks for Your Pantry
Canned tuna, chicken, salmon, anchovies, and sardines

TIP: You can make quick and convenient tuna, chicken, and salmon salads. Simply serve on a romaine lettuce leaf, in a half an avocado or wrapped in a low carb tortilla.
Tuna, chicken, and salmon packets

TIP: These portable packages make the perfect on-the-go lunches or snacks.
Low Carb and Keto Condiments for Your Pantry
Mustard, mayo, mustard, sugar-free ketchup and barbecue sauce, Cholula, Frank's Red-Hot Sauce, tabasco, Worcestershire, soy sauce, liquid aminos and sugar-free syrup
Low Carb and Keto Snacks for Your Pantry
Atkins low carb bars, shakes and treats
Nuts and seeds: Almonds, pistachios, macadamia nuts, etc. plus pumpkin and sunflower seeds

TIP: Nuts and seeds add low carb crunch to salads; a great swap for higher carb croutons.

Protein chips, pork rinds, low carb bars and treats
Olives and pickles
High-fiber seed crackers, cheese crisps, flax chips, and snap pea chips
Low Carb and Keto Baking Essentials for Your Pantry
Hemp hearts, chia seeds, almond, and coconut flour
Sugar-free sweeteners
Vanilla and peppermint extract
Sugar-free chocolate chips
Unsweetened cocoa powder
3) Shop Smart for Your Low Carb and Keto Meals
Now that you know how to stock your pantry, master your Monday, and give your low carb lifestyle some spring in its step with some smart shopping strategies that will make your meal planning and prep not so scary.
6 Smart Tips for Low Carb and Keto Shopping
Follow a ready-made plan. Go to Atkins.com for meal plans, shopping lists and recipes to help you make the most of your smart low carb and keto shopping.
Pick a day and make a list. Once you have planned some meals and snacks, as well as recipes that can do double-duty for multiple meals, make a list, and hit the store.
Eat before you shop. If you are worried about impulse buying once you get to the store, have a low carb snack before you go.
Watch out for sneaky marketing tactics. Foods labeled as "natural," "light," "organic," "healthy" or "gluten free" may not still be sneaky sources of added sugars and refined carbs.
Focus on the perimeter of the grocery store. This is where you will find your nutrient-rich whole food low carb staples, such as vegetables, fruits, proteins, and dairy.
Pay a little extra for convenience. If your excuse for not having groceries on hand is a lack of time, sign up for a grocery pick-up or delivery service. You can build your grocery list online and schedule a time to pick up your groceries or have them delivered. This will also help eliminate impulse buying.
4) Make Your Low Carb Meals Stress-Free with a Little Prep
Once again, if you put a little effort in advance with some tried-and-true meal prep technique, your breakfasts, lunches, dinners, and snacks will come together with minimal stress.
5) Perfect the Art of Low Carb Cooking on Weeknights
If you have some go-to low carb recipes on hand that win rave reviews every week, you are well on your way to having a relaxing (not scary) Sunday and a positive start to the week ahead.