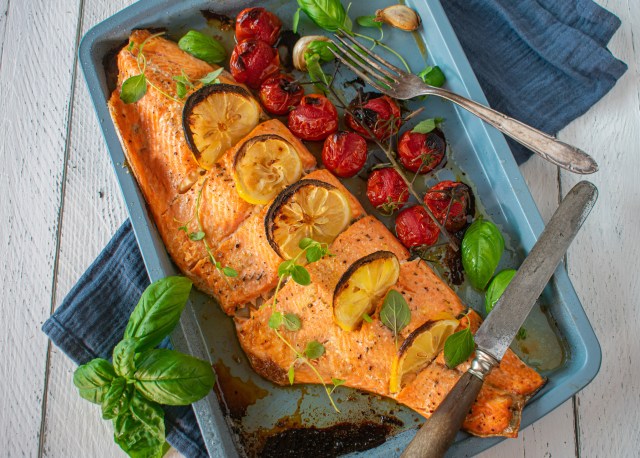 Warm up your weeknights with these low carb sheet pan recipes. The wonderful thing about a sheet pan meal is that it saves time, and clean-up is easy since you're only using one pan. The low sides of a sheet pan encourage air flow that makes it easy to brown and roast entire meals. Here are some tips for creating your own sheet pan meals:
Start with protein. Take your pick of beef, poultry, fish or tofu to create a well-rounded meal.
Add veggies. You can't go wrong with extra veggies since they tend to cook down as they roast. Make sure your veggies are sliced and diced so they are the same shape and size, which helps them cook evenly. Keep in mind that denser veggies, like squash, radishes or sweet potatoes, take longer to cook. Veggies with a higher moisture content, like mushrooms, zucchini or tomatoes, take less time, and leafy vegetables like kale and chard will cook the quickest.
Bring on the flavor. You can get creative with different seasonings to add flavor to your finished dish:
Fat. A bit of fat helps your food brown and cook evenly. Toss your ingredients with olive oil or another oil of your choice so that they are lighted coated.
Herbs and spices. Sprigs of fresh herbs like bay leaves, thyme, oregano, rosemary and tarragon can handle the time and high temperatures of roasting. You can use ground spices for marinades and rubs.
Cook it correctly. Add the slowest cooking ingredients and go from there. To make sure everything is evenly cooked, rotate the sheet pan halfway through cooking.
Go for the garnish. Once you're done cooking, give your recipe the finishing touch with soft herbs like basil, parsley, chives, cilantro and mint; squeezes of citrus; drizzles of yogurt or vinaigrettes; grated or crumbled cheeses; dollops of salsa or relish and splashes of chili pastes or hot sauces.
Try these low carb sheet pan recipes:
Garlic-Parmesan Chicken and Vegetable Sheet Pan Recipe
Garlic-infused olive oil and a Parmesan-Italian seasoning blend infuse chicken breasts, green beans, mushrooms and tomatoes with flavor in this 30-minute sheet pan recipe.
Low Carb Kielbasa and Veggie Sheet Pan Recipe
Kielbasa sausage, plus cauliflower and broccoli florets, are roasted along with turnip fries and served up with a spicy dipping sauce. Pickle brine is the savory secret ingredient in the dipping sauce.
Salmon Puttanesca Sheet Pan Recipe
This Italian classic—perfect for "date night in" or an extra-special weeknight—is made with kalamata olives, roasted red peppers and capers, and is topped with salmon, with zucchini and tomatoes in place of pasta. Lemon and rosemary sprigs, plus an added squeeze of lemon at the end, add brightness to this low carb sheet pan recipe.
Veggie, Turkey Meatballs and Broccoli Sheet Pan Recipe
Kids and adults alike will love this dish, which is finished with a creamy goat cheese sauce, plus an extra boost of veggies with the addition of zucchini in the turkey meatballs.