With grill-perfect weather and fresh produce in season, now's the time to try out the best summer dinner recipes that are both low carb and low maintenance. From Monday to Sunday, get inspired and change your routine with new BBQ recipes and healthy summer side dishes. If you're looking for new low carb recipes or simply want to set the table with great summer dinner ideas, check out these patio favorites below:
Summertime Grilling Recipes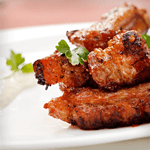 Smokey Southern Barbecue Rubbed Chicken Leg
This Smokey Southern Barbecue Rubbed Chicken Leg recipe is not only approved for all phases of Atkins 20, but also only takes just 30 minutes to make. Feast on delicious southern flavor featuring a smokey rub combination of salt, brown sugar substitute from sucralose, cumin, chili powder, black pepper, cayenne pepper, and paprika. Each serving contains 2.3g net carbs.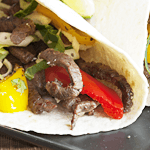 Beef Fajitas with Peppers
Fajitas are a fun and casual dish that can be prepared several low carb ways. Our recipe for Beef Fajitas with Peppers is the ultimate quick summer dinner, using skirt steak, red and green pepper, red onion, cilantro, and green salsa. Each serving contains 11.8g net carbs.
Grilled Eggplant with Vinaigrette and Pecorino Cheese
For a fresh summertime grilling recipe, try this Grilled Eggplant with Vinaigrette and Pecorino Cheese recipe. Season eggplant slices with olive oil and other spices, then shave slices of rich Romano cheese on top. Each serving contains 3.3g net carbs.
Grilled Steaks with Mustard-Herb Rub
While many of our low carb dinner ideas are great for casual summer dining, you can take things up a notch with a refined option like Grilled Steaks with Mustard-Herb Rub. Make an impression with a unique rub blend of mustard, garlic, rosemary, thyme, oregano, and pepper. Each serving contains only 0.9g net carbs.
Chipotle Grilled Pork Tenderloin
A little bit sweet, a little bit spicy, and a lot of fresh summer flavor. The Chipotle Grilled Pork Tenderloin recipe is the perfect summer dinner pick for those looking to switch things up while keeping it low carb. Each serving contains 3.5g net carbs.
Grilled Peppers and Onions
While you're grilling your burgers, brats, or hot dogs, throw some veggies on there too for an easy side dish. These grilled bell peppers and onions pair well with almost any summer dish, or could even be used as a savory topping for steaks. Each serving contains 5.8g net carbs.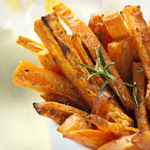 Rosemary-Roasted Sweet Potatoes
Take a pass on the French fries and opt for these sweet potato fries instead. Our rosemary-roasted sweet potatoes recipe is the sweet-and-salty side that will be a hit at your next summer BBQ. Each serving contains 13g net carbs.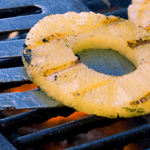 Grilled Pineapple
For a sweet summer treat with Caribbean-style flair, cut up pineapple slices and put them on the grill. A quick and delicious side dish, grilled pineapple recipe tastes great with grilled meats like chicken or pork chops. Each serving contains 9.5g net carbs.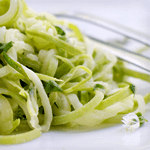 Zucchini Spaghetti with Lemon-Chive Dressing
If you're looking for a light summer side dish, try this recipe for zucchini spaghetti with lemon-chive dressing. Just spiralize or julienne the zucchini, then toss together with a refreshing mixture of lemon juice, salt, cream, and chives. Each serving contains 3.8g net carbs.
You'll never run out of seasonal dinner ideas with the help of our endless list of featured low carb recipes for summer. Join Atkins today and see how easy it is to stick to your low carb goals with the help of tools like meal planners, our online community, and more.