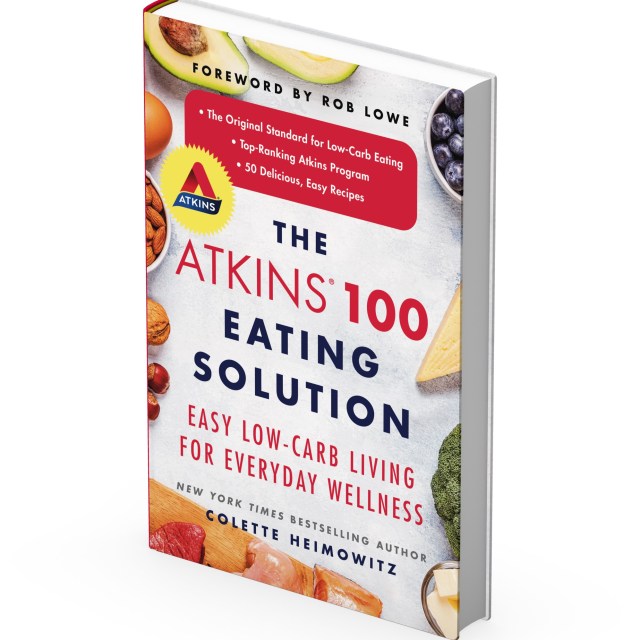 If you've been thinking about cutting back on carbs, now is the time to try Atkins 100. It can be a delicious and livable "reset" to the way you may currently eat. While the average American consumes around 240 grams of carbs a day, Atkins 100 reduces your carb intake to 100 grams of Net Carbs a day. The goal is to improve the quality of the carbs you are eating, swapping out high-glycemic carbs and sugar for fiber- and nutrient-rich low-glycemic carbs. You may experience many of the benefits of a low carb diet, such as increased energy, supporting stable blood sugar
levels, and less hunger. All foods are free game (within reason), and you, your family and friends can all eat this way.
Here's how Atkins 100 works:
Eat 100 grams of Net Carbs a day
Eat a minimum of 12 to 15 grams of Net Carbs of Foundation Vegetables.
Spread out the remaining 85 grams of Net Carbs like this:

Eat three meals a day of 25 grams of Net Carbs.

Eat two snacks a day of 10 to 15 grams of Net Carbs.

As part of these meals and snacks, eat three 4- to 6-ounce servings of protein a day.
Include two servings of added fat a day, such as a pat of butter or a tablespoon of olive oil, in your meals and snacks.
Make high-fiber food choices to help support stable blood sugar, energy levels, and your appetite.
When you're ready, you can start with this two-week Atkins 100 meal plan and shopping lists. If you prefer to create your own menu, check out Atkins' low carb recipes section and you'll find tasty and satisfying Atkins 100 recipes for breakfast, lunch, dinner and snacks.
Atkins 100 and The Mediterranean Diet
The Mediterranean Diet has been in the news (including a #1 ranking in U.S. News and World Report) and is sometimes recommended by doctors for its heart-healthy qualities. Here's how the Mediterranean Diet compares with Atkins 100 and how you can do a Mediterranean-style Atkins 100:
First, the Mediterranean Diet is not a structured "diet" per se, as it is does not include suggestions for portion sizes, calorie ranges or carb, protein or fat intake. The Mediterranean Diet recommends mostly plant-based foods, such as fruits, vegetables, whole grains, beans, nuts, legumes, olive oil and herbs and spices; fish and seafood twice a week; poultry, eggs, cheese and yogurt in moderation while limiting sweets and red meat. Like Atkins 100, it's recommended that you limit refined grains and foods with white flour or added sugar.
If you are sensitive to carbs, the Mediterranean Diet's emphasis on whole grains, whole-grain pasta and beans and legumes may mean you're consuming more carbs than your metabolism can handle. But you can do a Mediterranean-style Atkins 100 by filling your plate with vegetables, controlling your portions of starchy veggies, legumes and whole grains like pasta, and rounding out your meals with yogurt, cheese, poultry, eggs, fish and seafood, while adding flavor with fresh herbs and spices and cooking with olive oil. You'll be able to enjoy many of the benefits of eating the Mediterranean way, while reaping the benefits of Atkins 100.
Here are some suggestions, for doing a Mediterranean-style Atkins 100: