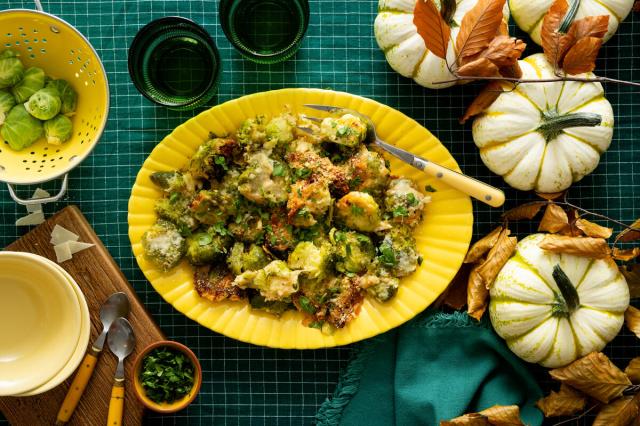 Plus, new recipes for comforting low carb side dishes and dessert.
It's time to talk turkey and all the trimmings. Let's start with some tips for stress-free Thanksgiving prep, followed by some delicious new recipes for comforting side dishes that will have you giving thanks because they are low in carbs. From creamy spinach gratin to smashed Brussels sprouts, plus an impressive dessert that will feed a crowd, everyone will reach for seconds.
12 Thanksgiving Dinner Prep Tips
Plan ahead. A week before the big day, create a menu and shopping list that includes all the low carb alternatives you need. Consider ordering some items online to save time and ensure availability.
Keep it simple. Focus on dishes with minimal ingredients that deliver maximum flavor.
Prep in stages. Do as much as you can in advance. Chop vegetables, prepare casseroles and make desserts a day or two before Thanksgiving.
Select one-dish recipes. Casseroles and one-pot dishes can often be made ahead and reheated on Thanksgiving Day. They also save on cleanup time.
Delegate. Don't do it all yourself. Assign side dishes, appetizers or desserts to guests.
Top turkey tips. Choose a fresh turkey to skip the whole defrosting process. Consider turkey breast instead of a whole turkey if you have fewer guests—it cooks faster and is easier to manage.
Ham it up. A delicious baked ham can also be your Thanksgiving centerpiece. It is naturally low in carbs and takes less time to prep and cook than turkey.
Go for low carb swaps. Get creative with almond flour for baking, cauliflower for mashed potatoes and sugar substitutes for cranberry sauce and desserts.
Use your appliances. Slow cookers and Instant Pots are excellent for side dishes and even some desserts, plus that frees up space in your oven for the turkey.
Skip the dishes. If you're feeding a crowd, save time on clean-up using disposable, recyclable plates. You can choose from various sturdy and festive options to add color to your holiday table.
Do buffet style. Setting up a buffet saves table space and makes serving and clean-up easier.
Relax and enjoy. The day is about being thankful and spending time with loved ones. Don't stress if everything isn't perfect.
Thanksgiving Comfort Food Recipes
Turkey or ham may be the centerpiece of your holiday meal, but you'll love these low carb twists on traditional side dishes. And don't forget to leave room for dessert.
You won't miss smashed potatoes with this low carb alternative. The crispy edges of the Parmesan crust and the slightly charred outer Brussels sprout leaves make this dish drool-worthy.
Gratins are a cheesy side dish perfect for any holiday gathering. This keto-friendly version of creamed spinach is topped with extra cheese.
Kugel is a baked casserole typically made with potatoes or noodles. This recipe uses cauliflower, while dill and lemon brighten the dish, and scallions and gruyere bring the savory flavors kugel is known for.
These fluffy, moist biscuits are the perfect cranberry complement to your holiday table.
This holiday dessert is not overly complicated yet looks quite impressive and features layers of pumpkin mousse, sweetened whipped cream and maple-candied pecans, sprinkled with chocolate curls from an Atkins Endulge Crunchalious Bar. The pumpkin mousse, sweetened whipped cream and candied nuts can be made in advance and stored separately until the dessert is ready to be assembled before serving.