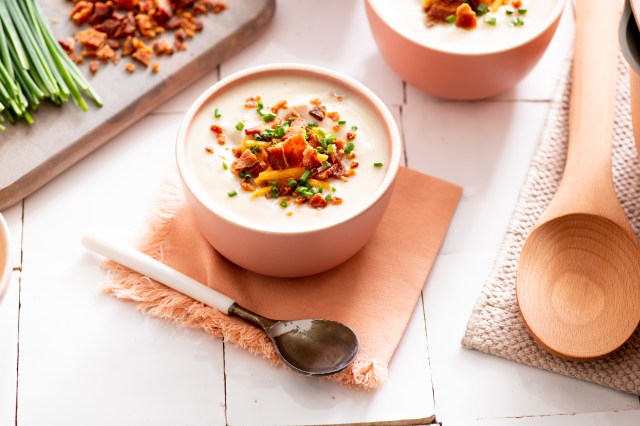 Plus, 5 tips for winning slow-cooker meals.
While you may be growing weary of winter, it's not over yet. Cozy comfort food, in the form of low carb recipes you can prep in advance, add to your slow cooker and "set and forget", are lifesavers when the temps are frigid and all you want to do is come home to a hot meal at the end of a hectic day.
Comfort Food at its Best: New Low Carb Slow Cooker Recipes
This will be your go-to dish, whether you're feeding a crowd or need double-duty meals for the week. You can use this shredded chicken as filling for low carb tacos, cauliflower burrito bowls, taco salad or as a protein-packed nacho topping for Atkins Nacho Protein Chips.
This creamy soup has all the flavors of a loaded baked potato, in a bowl. Cauliflower is the low carb swap for potato, and it's topped with all the fixings: sour cream, cheddar cheese, chives and bacon.
5 Top Slow Cooker Tips
You can ensure every slow cooker recipe is a winner with these tips:
1) Stock up for slow cooking.
You can keep many slow cooker staples on hand so you're not scrambling for ingredients at the last minute. This includes stock (chicken, beef and vegetable), which is the savory backbone of many slow cooker recipes. Most unopened, packaged or canned stock or broth will last up to a year in your pantry. Keep cans of tomatoes, chilies and fiber-rich beans, plus jars of sundried tomatoes and artichokes in your pantry. Fill your freezer with chopped, frozen veggies and packages of ground beef, flank steak, chicken thighs and breast and sausage.
2) Prep for success.
The night before, thaw out any frozen ingredients, cut and trim meat, chop vegetables, measure out dry ingredients and prepare any sauce. In the morning, just add the ingredients to your slow cooker (reheat any sauce that you made before you add it). If your slow cooker has a removable insert, once you prep your ingredients, you can add them all to the insert, remove it from the slow cooker and refrigerate it overnight. In the morning, bring the insert to room temperate for 30 minutes to an hour, and set the slow cooker to your desired time before you leave.
3) Finetune flavor.
Enhance the flavor of your meal by browning your meat and sautéing veggies. Toward the end of the cooking time, you can add fresh herbs, lemon juice, lime juice, citrus zest, hot sauce, grated Parmesan or other shredded cheese, olive oil, sautéed garlic, shallots or ginger.
4) Watch the water.
If your dish is a little watery toward the end of the cooking time, you can remove the lid to let the liquid reduce, remove the insert and finish on a stove top or set your slow cooker to HIGH if it was set on LOW.
5) Batch cook for leftovers.
Batch cooking is when you double or triple the ingredients for a specific meal and store the extra portions for additional meals. Slow cookers work perfectly for this, and you can also make recipes like Keto Slow Cooker Mexican Shredded Chicken, which then becomes the base for many different meal options.