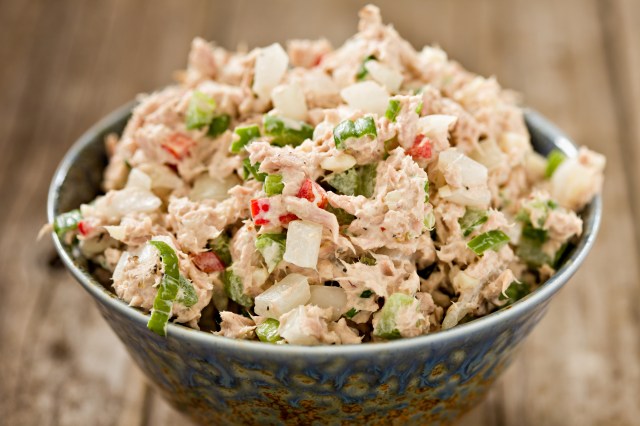 During this new era of sky-high grocery prices, canned tuna is an inexpensive pantry staple that is convenient to buy, store and eat. Canned tuna is also a great source of protein that is naturally low carb, and is the third most popular type of seafood consumed in the U.S., according to the National Fisheries Institute.
The Health Benefits of Tuna
Research suggests that people who eat 1 to 2 servings a week of fish like tuna, salmon and sardines are more than a third less likely to die of heart disease. This is most likely because fish like tuna are a rich source of omega-3 fatty acids, which are known to fight inflammation, a factor that leads to heart disease.
Low Carb Recipes with Canned Tuna
These low carb canned tuna recipes go beyond basic tuna sandwiches, tuna salad or tuna casseroles. They are delicious and light, full of flavor and bursting with fresh veggies.
This creamy tuna dish, which swaps pasta for zucchini noodles, also features fresh mushrooms, cherry tomatoes, spinach and rosemary. The flavorful sauce is made from chicken broth, heavy cream and parmesan cheese.
You'll love this satisfying Greek-inspired Mediterranean salad for lunch. Chickpeas and tuna add fiber and protein, while avocado brings a bit of creamy, healthy fats. Cucumber, cherry tomatoes, red onion and green olives add even more flavor, and everything is tossed with a lemony-herb vinaigrette. This is not your average tuna salad.
You won't miss the noodles (or bland flavors) in this zesty tuna casserole when you add fresh broccoli and roasted red bell peppers, plus a blend of parmesan, mozzarella and cream cheeses and Italian seasoning.
More Low Carb Meals for Your Budget
Rotisserie chicken is also a convenient and cost-effective option that can be made into a variety of meals.