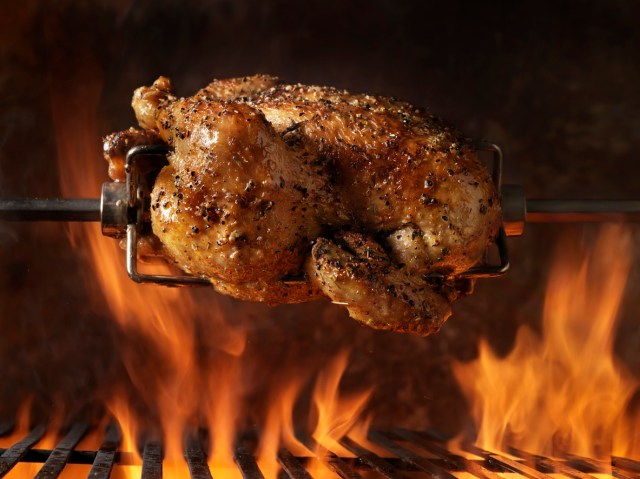 Low Carb Rotisserie Chicken Recipes: Soup and Salads
Apple Walnut Rotisserie Chicken Salad
Easy Italian Rotisserie Chicken Soup
Mediterranean Salad with Rotisserie Chicken
How to Make Your Low Carb Diet Budget-Friendly
9 Tips for Doing Atkins on a Budget
Low Carb Meals for Your Budget: Rotisserie Chicken
 Low carb recipes featuring affordable rotisserie chicken.
Your wallet has probably been taking a hit lately at the grocery store. Even chicken, which would typically be considered budget-friendly (especially compared to steak), is not immune to inflation. According to the Consumer Price Index, prices for raw chicken have increased more than 16% this year. Fortunately, rotisserie chicken prices have remained low, so go ahead and grab a rotisserie chicken the next time you're at the grocery store and keep reading for tasty low carb recipes featuring rotisserie chicken.
Low Carb Rotisserie Chicken Recipes: Soup and Salads
Rotisserie chicken is an affordable and convenient option for weekday lunches and dinners, especially if you're up to your eyeballs in back-to-school prep. An average rotisserie chicken yields about 4 cups of meat, and these recipes each use about 2 cups, so hypothetically one rotisserie chicken could do double-duty for two recipes. Talk about budget friendly!
Keep a batch of this crunchy-sweet chicken salad in the fridge, and you have lunch ready to go all week for school or work. Spoon the chicken salad into a romaine lettuce leaf or low carb tortilla for a delicious wrap. You can also make sandwiches with slices of low carb bread slathered with butter and layered with lettuce and tomato slices.
You'll love this weeknight chicken soup. It's ready in 25 minutes and packed with veggies: celery, carrots, mushrooms, kale and tomatoes.
All you need is 15 minutes to prepare this hearty dinner salad, which features chopped tomatoes, cucumber, kalamata olives, red onion and feta cheese tossed with an olive oil, tahini, red wine vinegar and oregano vinaigrette and layered on spring greens with shredded rotisserie chicken and drizzled with more vinaigrette.
How to Make Your Low Carb Diet Budget-Friendly
You're on a roll with these affordable low carb rotisserie chicken recipes. Learn how to keep saving money while losing weight on a low carb diet with these tips: