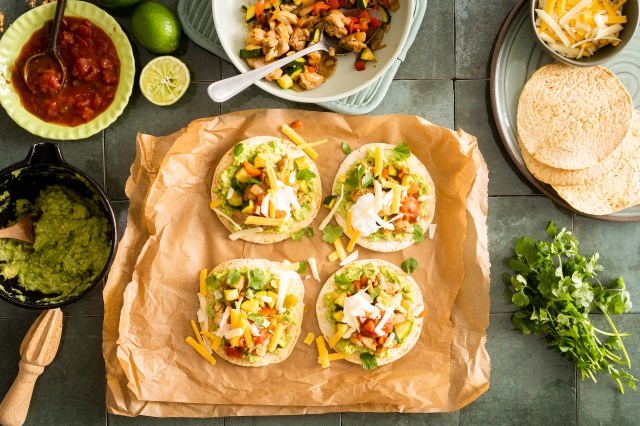 Margs, tacos, tostadas and more!
If you plan on celebrating Cinco de Mayo but worry about the Cinco "carbs" that may creep on you, fear not. With these recipes and tips, your fiesta can be delicious and low carb.
How to Make Your Cinco de Mayo Low Carb
Eating out? Try these tips for lightening up your fiesta:
Skip the chips. This may be the biggest challenge. Go for guacamole and its healthy fats, or salsa, and ask for sliced, raw vegetables such as jicama, carrots, celery or bell peppers.
Start with ceviche. This citrus-marinated seafood starter is often served with sliced, raw vegetables. The dish is rich in protein and will help fill you up.
Stick with salad. Add protein like carnitas, carne asada or chicken, plus sliced avocado and tomatoes and cheese. If your salad arrives in a deep-fried tortilla bowl, try not to snack.
Go for grilled. Order grilled meat, poultry and seafood as your entrée, and forgo the side of rice and beans.
Swap tortillas for lettuce. Many restaurants may allow you to substitute lettuce leaves for tortillas if you order tacos.
Ask for a bowl. Skip the tortilla, ask for extra veggies, and turn your fajitas, tacos or burrito into a bowl.
Sip on skinny marg. Typical margarita recipes are full of sugar, thanks to mixes that have Triple sec and orange juice. Keep it skinny and simple with tequila, fresh lime juice, soda water and a splash of fresh-squeezed juice.
Lighten up your beer. You can choose from low carb versions of popular Mexican beers.
Eating in? You have plenty of low carb Cinco de Mayo recipes to choose from:
Try this tasty, new recipe for Low Carb Chicken and Veggie Tostadas, or take your pick of these 18 low carb Cinco de Mayo recipes, plus, don't forget our favorite low carb margarita recipes.