Cinco de Mayo (which is Spanish for "the fifth of May") is a Mexican holiday celebrating an unlikely Mexican military victory over French troops in 1862. In the United States, many people celebrate Cinco de Mayo with Mexican-inspired drinks and food. Read more to discover Atkins low carb drink and margarita recipes. Cheers to low carb celebrations!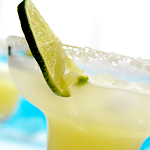 This classic on-the-rocks recipe is the perfect low carb way to celebrate Cinco de Mayo. Mix tequila, fresh lime juice, and a teaspoon of sugar substitute in a shaker. Pour into a margarita glass and garnish with salt on the rim and a lime wedge. One drink contains 0.1g of protein, 0g of fat, 0.1g of fiber, 2.7g of net carbs, and just 105 calories.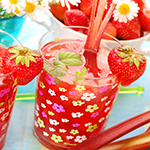 Before sipping this cocktail, you'll have to whip up some of Atkins Strawberry Rhubarb Sauce using fresh rhubarb, strawberries, tap water, and xylitol. Once you've done that, it's onto the main show. The margarita recipe calls for fresh lime juice, sweetener, tequila, ice cubes, Atkins Strawberry Rhubarb Sauce, and club soda. You can serve on the rocks, or mix the ingredients in a blender to make a frozen concoction. Each drink contains 0.4g of protein, 0.1g of fat, 3.4g of fiber, 7.3g of net carbs, and 86 calories.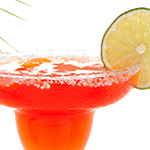 This fruity and refreshing cocktail is best enjoyed somewhere warm. Head to an outdoor patio to kick back and relax with your strawberry margarita in hand. The recipe includes large strawberries, fresh lime juice, sweetener, tequila, and club soda. One drink contains 0.3g of protein, 0.1g of fat, 0.8g of fiber, 9.9g of net carbs, and 82 calories.
If it's chilly on Cinco de Mayo in your neck of the woods, you can still capture the spirit of the day with a warm drink. Reach for a cup of this silky smooth hot chocolate, infused with cinnamon, cocoa powder, and vanilla extract. One cup contains 3.4g of protein, 44.7g of fat, 2.1g of fiber, 4.9g of net carbs, and 433 calories.
Snacks
If you're looking for something low carb to munch on while you sip your drink, check out Atkins recipe library with over 1,600 recipes for guacamole and quick tomato salsa. Serve with cut-up vegetables or kale chips for guilt-free snacking. Sign up for our Newsletter to get our latest Cinco de Mayo inspired recipes and updates.