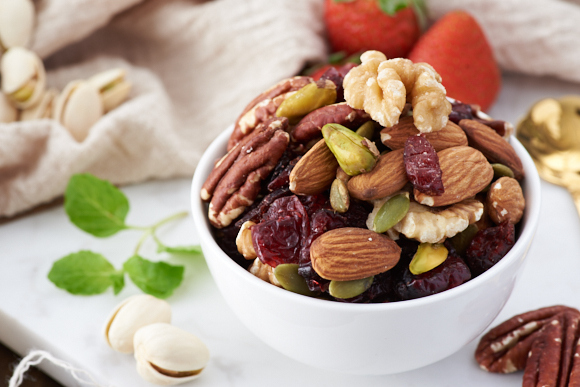 Who doesn't love a yummy snack, especially when your cravings hit? Unfortunately, a lot of snacks are packed with sugar, which will send your blood sugar levels on a literal rollercoaster and only increase your desire for more sugar, STAT. If you'd like to avoid this whole scenario, also known as the Hidden Sugar Effect, but you are still in the mood for a snack, you can try Atkins® Sweet & Salty Crunch Bites.
"These snacks are packed with nuts and seeds, which are naturally rich in protein and fat," explains Lani Banner, Atkins' recipe developer. "The protein and fat slows down the absorption of carbohydrates into the blood stream. This helps keep you fuller for longer."
Even better? Atkins Crunch Bites have 1 gram of sugar, plus they can curb any salty and sweet cravings in just a few crunchy bites. They also taste great mixed into full-fat Greek yogurt, added to your favorite trail mix recipe, or you can chop them up and use them as a crunchy addition to any low carb energy bar or muffin recipe or as a topping for steel-cut oats, low carb pancakes or waffles, chia seed pudding, a smoothie bowl or your favorite low carb ice cream.
You can get your snack on with these three snack recipes using Sweet & Salty Crunch Bites, which are perfectly portable and take just five minutes to make:
Sweet & Salty Dark Chocolate Sea Salt Crunch Bites Trail Mix
Sweet & Salty Honey Almond Crunch Bites Trail Mix