Dark Chocolate Sea Salt Crunch Bites Trail Mix
---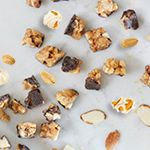 3.3g
Net Carbs
Prep Time: 5 Minutes
Style:American
Cook Time: 0 Minutes
Phase: Phase 2
Difficulty: Moderate
* Any adjustments made to the serving values will only update the ingredients of that recipe and not change the directions.

How to Calculate Atkins Net Carbs
How to Calculate Atkins Net Carbs
Atkins Net Carbs = Total Carbohydrates – Fiber – Sugar Alcohols/Glycerin (if applicable)
×
---
INGREDIENTS
1 cup Popcorn, air-popped

11 bites (30g) Atkins Dark Chocolate Sea Salt Caramel Crunch Bites

30 nuts Almonds, whole, roasted

2 Tbsp Peanuts, dry roasted
DIRECTIONS
Add all ingredients into a medium bowl and toss until evenly distributed. Divide into 4 equal servings. Store in an airtight container for up to one week.
Featured Low Carb Recipes