Rocio Garcia
Age 44
Your health and your life are worth it.

* The average person can expect to lose 1-2 lbs. per week. Results may vary. Weight loss is influenced by exercise, food consumed and diet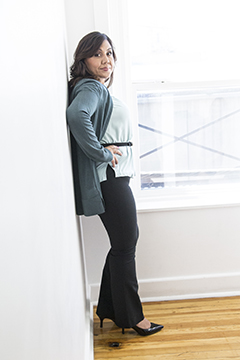 My Story: In the past, Rocio Garcia thought the only way to lose weight quickly was to eat close to nothing. "This starvation just made me get desperate, and all I could think about was stuffing my face," she admits. "I felt frustrated, which then led to depression, and I found comfort and satisfaction in food. Which led to double the weight gain." One of her best friends suggested Atkins, so Rocio ordered the Atkins Quick Start Guide online to learn more. Not only did she want to lose weight, but she also wanted to live a healthier lifestyle. "The starter kit was a blessing; not only did it provide me with instructions and tips, but also a yummy Atkins bar," she says. The weekly emails and meal suggestions she received from Atkins were also very helpful. She started losing weight quickly during the first two weeks, which she says was her biggest motivator. As the weight came off, she also started exercising, while completely revamping her eating habits. "Atkins made it easier for me to keep track of carb amounts for each Phase I was in," she says. "I liked the fact that I could eat what I actually liked without feeling like I had to sacrifice some of my favorite foods, for example, steak and eggs. Atkins actually helped me eat more green vegetables." So far, Rocio has lost 61 pounds, and she is on track to lose 30 more. "Atkins has transformed my life in many ways; not only has it transformed my body, it has given me the energy to be more active," she says. "I now make better eating choices while not even thinking about it. At times forget I am on a diet. Being on Atkins has given me the confidence to be part of the Wellness Committee at work, and the confidence to motivate my loved ones."