Carly Zakrewski
Age 28
I weighed less than when I graduated from high school ten years before.

* The average person can expect to lose 1-2 lbs. per week. Results may vary. Weight loss is influenced by exercise, food consumed and diet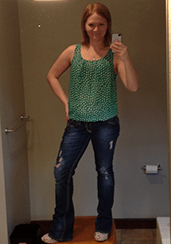 My Story:
I followed Atkins before my first child came along and lost around 35 pounds. Then after my second child, I was at almost 200 pounds and I hated looking in the mirror. I started driving for college in August of 2011 and decided then that I would give Atkins another chance. It worked! The Daybreak bars and Endulge bars became my traveling companion and now here I am almost 29 and at 135 pounds.
One year after starting the Atkins way of life I had my ten year high school reunion. I was down about 46 pounds then and had just competed in the Atkins online competition. People from school and the community said that they had logged into Atkins' Facebook page to vote for me. It was a great conversation starter and I could not believe the compliments I received. I weighed less than when I graduated from high school ten years before. I was also much more confident because I had a great husband by my side, happiness, a great life, and a thin toned body. I'm down another 11 since then but am mostly maintaining now with slow slight weight loss. My husband has also lost 45-50 pounds and looks better than he did in high school more than 15 years ago.
The new recipes that are always coming out and great bloggers really have made a huge difference in my life. I love sharing my success with others and answer any questions they may have about Atkins. I always say go to the Atkins website and get the free quick-start guide. It's priceless.
My Goals:
To stay around 130-135lbs while toning up and getting in better shape. I started at 192 lbs. and am now at 135 lbs.
How Atkins Helped Get Me There: Atkins has helped me get there by providing great snack bars, fresh recipes to try, and motivational quips on Facebook.