If you're juggling on-the-go low carb lunch ideas for your kids, plus your own, thinking outside the (lunch)box can be a challenge when trying to live a low carb lifestyle. Additionally, with the switch from summer fun to school schedules, having healthy after school low carb snacks around the house is key to hold everyone over until dinnertime. Back-to-school season can get kind of crazy when this all adds up, but we're here to help. Get prepared with these low carb lunch ideas, after school snacks for kids (and adults!), and tips for keeping your lunch menus in check:
Easy Low Carb Lunches to Go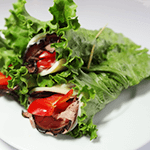 Roast Beef, Red Bell Pepper, and Provolone Lettuce Wraps
Roll up a quick and low carb lunch with roast beef, red bell pepper, and provolone lettuce wraps. The roast beef and provolone combo is a sandwich classic, while the red pepper adds a satisfying crunch. Each serving contains 3.3g of net carbs.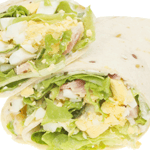 Bacon-Egg Salad Flatout Wrap
A lunchbox favorite, the bacon-egg flatout wrap is one of those protein-packed lunches you won't be able to get enough of. After whipping together the tasty egg salad and turkey bacon mixture, spread on to a Light Original Flatbread topped with lettuce and roll it up. Each serving contains 8.7g of net carbs.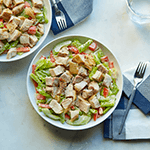 Buffalo Chicken Salad
Switch up your low carb lunch ideas for work with this buffalo chicken salad recipe. With a little bit of prep work, you can portion out this flavorful and filling lunch to enjoy throughout the week or share with others. Each serving contains 9.7g of net carbs. Skip the grocery store and have the ingredients delivered right to your door!
Low Carb Snacks for Kids
Cheese Straws
Crispy and cheesy, your family won't be able to keep their hands off this after school snack: baked cheese straws. And best of all, you can enjoy them too while sticking to your #HappyWeight goals. Each serving contains only 1.4g of net carbs.
Ham, Cream Cheese, and Dill Pickle Roll-Ups
A classic deli snack like ham, cream cheese, and dill pickle roll-ups is not only super easy, but it's likely you already have the ingredients in your fridge ready to go. You can make them as a kids' school snack, or prepare them for yourself for when you get home from work. Each serving contains 2.2g net carbs.
Garlic Ranch Dip
Fresh veggies make great school snacks for kids, and everyone will love dunking them in our garlic ranch dressing. This dip is as simple as it gets, combining all the ingredients in a blender and puréeing until smooth. Each serving contains 1g of net carbs.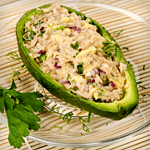 Crab and Avocado Salad
When it comes to on-the-go lunch ideas, our crab and avocado salad is easy to make and pre-pack for the week. Simply mix lump crab meat, avocado, mayonnaise, lime juice, cumin, and diced celery, then scoop onto watercress. Each serving contains 2.2g of net carbs.
Tips for Low Carb Lunches to Go
Prep your veggies. Wash and cut up veggies and store them in clear glass or plastic containers in the refrigerator so that you have instant access to a variety of veggies for salads or snacks.
Egg it on. Make a batch of hard-boiled eggs to have on hand. They are easy low-carb snacks, and you can also chop them up and add to salads.
Cook ahead. Cook or grill chicken breasts, steak, or fish, then freeze in Ziploc bags and defrost for low carb lunches on the go. Or cook up a batch of bacon, and use through the week to sprinkle on salads.
Go for ready-made. Add pre-cooked rotisserie chicken or other deli-ready meats to any salad to speed up the lunch-making process.
Salad time. The perfect low carb lunch could be tuna salad, chicken salad or egg salad served on a bed of mixed greens with chopped cucumber and grape tomatoes, or as a sandwich filling between leaves of romaine lettuce.
Put your kids to work. Have them pack their own lunches. Let them choose from an assortment of veggies, salad, and wrap or sandwich options on hand.
If you need some extra low carb inspiration for breakfast and dinner as well, we've got you covered. Check out hundreds of delicious Atkins recipes for any time of day.