It can be challenging to maintain a healthy lifestyle during the holidays. Between holiday parties, family get-togethers, and sweet gifts from friends, the holiday season is full of tempting treats that aren't always friendly to a low carb diet. But you don't have to avoid cookies entirely during the holidays! Baking with the healthier low carb ingredients in these Atkins-approved cookie recipes is the perfect way to indulge with less guilt.
And if you needed another excuse to get a jump start on your holiday baking, National Cookie Day falls on December 4th. So take a moment to get inspired with this list of our low carb versions of your favorite holiday cookies.
Low Carb Holiday Cookie Ideas
Whether you are baking for holiday parties, potlucks, or cookie exchanges, here are some Atkins-approved recipes for low carb Christmas cookies you can indulge in without compromising your nutrition goals.
Holiday Cookies
With 2.3g of protein and 1.2g net carbs per serving, this Atkins recipe puts a low carb twist on classic Holiday Cookies. Decorating cookies is one of the best parts of the holiday season and a fun way to entertain kids, so go ahead and add your favorite sugar-free frosting or sprinkles to these cookies for extra festive flair. Serve alongside a steaming cup of Mexican Hot Chocolate for dunking!
Pinwheel Cookies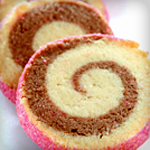 These Pinwheel Cookies are as pretty as they are tasty. Crushed walnuts, chocolate chips, and cinnamon are combined to make the festive swirl in the middle of the cookie. One pinwheel contains 1.2g net carbs and 2.1g of protein.
Fig and Goat Cheese Cookies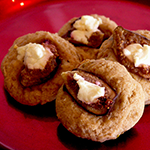 Impress your friends and family with this easy and delicious Fig and Goat Cheese Cookie recipe that mixes together figs, applesauce, 100% stone ground whole wheat pastry flour, and dry roasted pistachio nuts. A serving of two cookies contains 2.4g of protein and 9.5g of net carbs.
Cardamom Butter Cookies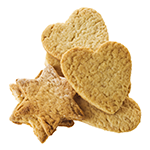 Make these satisfying Cardamom Butter Cookies a new family favorite you can feel good about. Quick to assemble and with few ingredients, a serving of two cookies offers 8.8g of protein and 3.5g of net carbs. And if you don't care for the unique flavor of cardamom, try these delightful Vanilla-Almond Butter Cookies (1.7g net carbs) instead.
Cherry Hazelnut Biscotti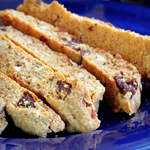 Make this low carb version of the classic Italian biscuit to give as gifts to the coffee-lovers in your life. Friends, teachers, and neighbors will love this Cherry Hazelnut Biscotti with 2.1g net carbs and 2.4g protein per serving.
Chocolate Peanut Butter Cookies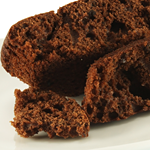 Peanut butter lovers will go crazy these Chocolate Peanut Butter Cookies, which are a low carb way to enjoy one of the most popular flavor combinations. With 2.6g net carbs and 3.6g protein per serving, these cookies are so enjoyable you will want to make them all year long.
Low Carb Baking Tips
Make holiday baking even easier by preparing a large batch of our Atkins Low Carb Flour Mix (or the gluten free version) ahead of time to have on hand. Made from whole grain soy flour, wheat bran, whey protein, and flaxseed meal, this mix is a delicious and easy way to turn your favorite holiday cookie recipes into healthy holiday cookies you can feel good about eating and sharing. The cardamom butter cookies above call for it, but you can even make low carb versions of your favorite recipes. Low carb chocolate chip cookies anyone?
If you prefer to bake with low carb almond or coconut flours, we have additional tips for baking with those as well.
—
When you make your own healthy holiday cookies, it's easy to stay on track with your low carb goals. Discover even more of our favorite recipes this winter to help you enjoy all of the foods you love. No time for baking? Try Atkins treats to satisfy your sweet tooth!
Happy Holidays!