Gluten Free All Purpose Low Carb Baking Mix Recipe
---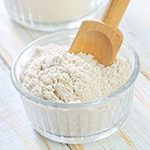 3.3g
Net Carbs
Prep Time: 5 Minutes
Style:American
Cook Time: 0 Minutes
Phase: Phase 1
Difficulty: Moderate
* Any adjustments made to the serving values will only update the ingredients of that recipe and not change the directions.

How to Calculate Atkins Net Carbs
How to Calculate Atkins Net Carbs
Atkins Net Carbs = Total Carbohydrates – Fiber – Sugar Alcohols/Glycerin (if applicable)
×
---
INGREDIENTS
1 cup Whole Grain Soy Flour

16 oz Soy Protein Isolate

2 tsp Baking Soda

1 tsp Salt

3 tsp No Calorie Sweetener
DIRECTIONS
This recipe can be used as a 1:1  replacement for self-rising flour recipes you may have in your traditional repertoire.   
Whisk to combine all ingredients thoroughly.  Makes about 3 1/4 cups; each serving is slightly over 1/3 cup.
Optional for a milder taste:  substitute soy protein powder for the soy flour and egg protein powder for the soy protein isolate.
Please note that this recipe includes baking soda, salt and sucralose. Please leave these ingredients out if you are substituting this mix in our recipes that specify
Atkins Flour Mix
because each recipe has a specific amount of salt, baking soda or powder and sweetener.  Use just the blend of soy flour and protein powder.
Please also note that recipes that contain Atkins Flour Mix are tagged as containing gluten so if you have used that as an exclusion in your preferences recipes that may use the flour mix will not show up in your searches.  To find them simply uncheck the gluten exclusion i your preferences.
Cooking Tip
We love the idea of customizing this recipe to make it your own! If you add any ingredients, just be sure to keep an eye on net carbs.
Featured Low Carb Recipes