Cardamom Butter Cookies Recipe
---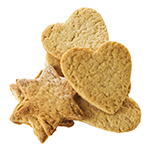 3.5g
Net Carbs
Prep Time: 10 Minutes
Style:American
Cook Time: 22 Minutes
Phase: Phase 3
Difficulty: Difficult
* Any adjustments made to the serving values will only update the ingredients of that recipe and not change the directions.

How to Calculate Atkins Net Carbs
How to Calculate Atkins Net Carbs
Atkins Net Carbs = Total Carbohydrates – Fiber – Sugar Alcohols/Glycerin (if applicable)
×
---
INGREDIENTS
1 Tap Water

0 3/4 Cardamom

2 Vanilla Extract

10 Unsalted Butter Stick

0 1/4 Baking Powder (Straight Phosphate, Double Acting)

0 1/2 Sucralose Based Sweetener (Sugar Substitute)

0 1/2 SALT

1 Egg (Whole)

0 1/2 BLANCHED ALMOND FLOUR

4 13/24
DIRECTIONS
Please use the Atkins recipe for
Atkins Flour Mix
(or the
Gluten Free
version) for this recipe.  To make 12 servings you will need 1 1/2 cups of the mix.  If you change the serving size for the recipe to up or downsize it you will need to adjust accordingly.  Each serving of bake mix is 1/3 cup.  
Heat oven to 350°F.  Line 2 baking sheets with parchment paper; set aside.  


Combine 1 1/2 cups baking mix, 1/2 cup almond flourl, baking powder, and salt in a medium bowl.  Combine butter and sugar substitute in a large bowl; cream with an electric mixer on high speed until  light and fluffy.  Add egg, water, vanilla, and cardamom; beat on medium speed until combined, scraping down sides of bowl as necessary (mixture may look watery).  Add flour mixture; mix on low speed until dough comes together. 


Divide dough in half, and then in half again. Make 6 equal balls from each quarter portion of dough. Place 12 balls on each baking sheet. Press each gently with  the tines of a fork in a crisscross pattern (optional);  bake until  lightly browned  on the edges, about 10 minutes. Alternatively, place in the refrigerator for 30 minutes and then roll out between parchment; cut out shapes and bake.  Transfer cookies to a wire rack to cool completely.  Store in an airtight container for up to 1 week.  Makes 2 cookies per serving.  
Find this recipe and more in the New Atkins For a New You Cookbook!
Cooking Tip
We love the idea of customizing this recipe to make it your own! If you add any ingredients, just be sure to keep an eye on net carbs.
Featured Low Carb Recipes