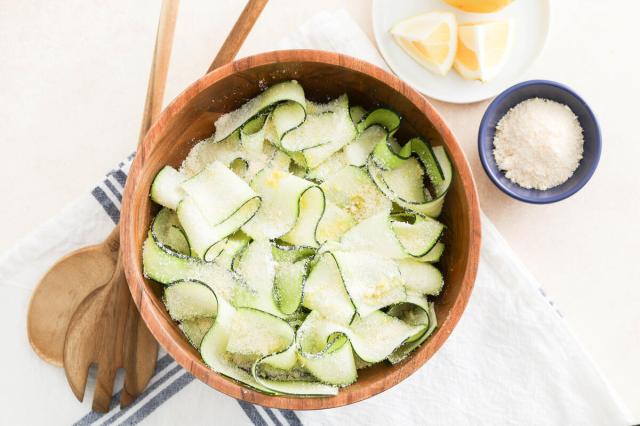 Make the most of summer vegetables in season.
Zucchini is coming into season, and there are quite a few reasons why you should love this nutrient-rich, vibrant summer vegetable that is naturally low in carbs. Zucchini is also high in fiber, which promotes satiety, and it contains 95% water, which makes it naturally hydrating. Plus, it is rich in antioxidants and has anti-inflammatory properties, thanks to phytonutrients lutein and zeaxanthin. It is also delicious!
How to Pick the Perfect Zucchini
Here's a quick guide to picking the perfect zucchini:
Size: Choose medium-sized zucchini, about 6 to 8 inches long and about 1 to 2 inches in diameter. They should feel firm and soft enough.
Color: Look for zucchini that are dark green, which indicates ripeness.
Texture: The skin should be smooth, shiny and free of dents.
Stem and blossom end: The stem should be green and intact, and the blossom should be free from any mold or rot.
Organic and locally grown: If possible, choose organic and locally grown zucchini, or harvest them from your garden or a friend's. They are usually fresher and more flavorful.
Store and prep. For up to five days, you can store fresh zucchini in a plastic bag in the vegetable crisper in the fridge. Wait to wash until ready to use.
Fresh and Flavorful Zucchini Recipes
Your options for preparing zucchini are endless. It takes fabulous on the grill or roasted, steamed, stuffed, sauteed, baked or raw.
Shrimp is marinated in a refreshing mixture of coconut milk, fresh lemongrass, lime juice, tamari green curry paste. It is threaded on bamboo skewers with zucchini ribbons and summer squash and grilled to perfection. Drizzle more coconut milk and green curry paste before serving.
You'll love this easy dish that takes just five minutes to prepare. Just toss fresh zucchini ribbons with Parmesan, lemon zest and lemon juice and olive oil. Season with salt and pepper, and you're good to go with a no-cook summer dish.
Ribbons of fresh zucchini are a tasty low carb swap for tortillas in this summery skillet enchilada recipe.
What's for dessert? This sweet low carb treat features poppy seeds, zucchini and lemon is drizzled with a lemony glaze.