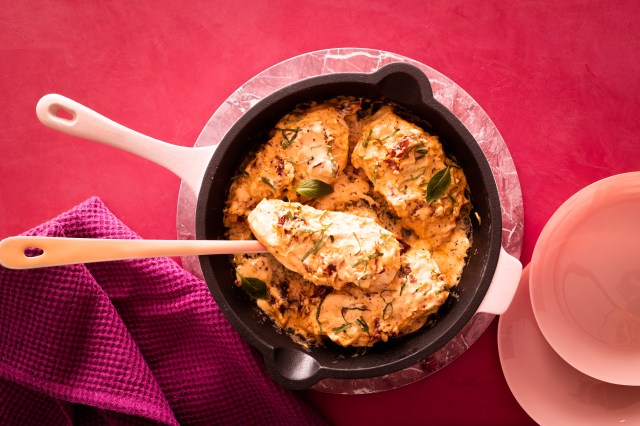 June is the beginning of wedding season and a great time to get in shape for summer.
June is traditionally considered wedding month, dating back to Roman times, as June comes from "Juno", the Roman goddess of love and marriage. If you are married in June or some other time or attending a wedding, you can kick off the wedding season with a delicious keto chicken recipe guaranteed to knock someone's socks off. Plus check out our summer shape-up plan, which is equally suitable for brides, grooms and guests.
The Must-Have Recipe for Wedding Season
What is the secret behind a recipe guaranteed to garner a wedding proposal? This viral recipe is deceptively simple because who wants to slave away in the hot kitchen in front of your beau? It has a keto twist and budget-friendly, common ingredients in most pantries. Lastly, it is so delicious that the person you are making it for might fall in love with you.
Pan-seared chicken cutlets are simmered in a rich sauce of heavy cream and cream cheese, Parmesan cheese, sundried tomatoes, Italian seasoning and red pepper flakes.
Atkins Wedding Season and Summer Shape-Up Plan
Whether your goal is to shape up for summer or a wedding, you'll want to follow these tried-and-true tips for losing weight while embracing a low carb lifestyle. You'll learn why a low carb diet is effective for weight loss and helps you maintain the weight you lose. Plus, check out low carb meal plans for weight loss, shopping lists and an exercise plan.