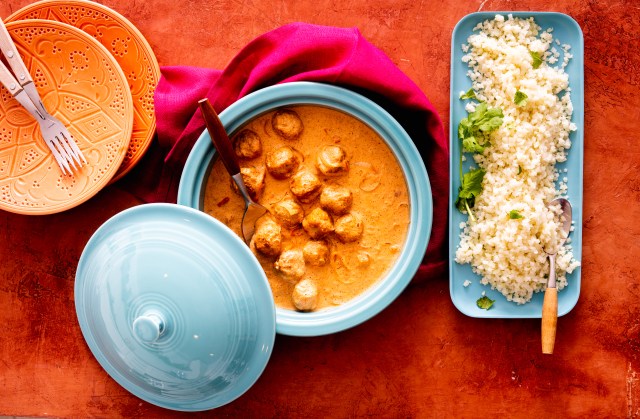 Easy Low Carb and Keto Meatball Recipes
Fast and delicious low carb and keto meatball recipes for the family.
You'll be eager to add these easy low carb and keto meatball recipes to your family's dinner menus, and the leftovers are also easy to reheat for lunch. Whether you prefer beef, chicken or turkey in your meatballs, these cover all the bases.
A Philly cheesesteak sandwich is typically made with thinly sliced steak, caramelized onions, bell peppers, provolone or mozzarella cheese (or even Cheese Whiz!) and served up in a hoagie or Italian roll. This low carb Philly cheesesteak meatball version uses Atkins Ranch Protein Chips instead of breadcrumbs and is combined with ground beef, bell peppers, onions, mushrooms and parmesan cheese. These hearty meatballs are smothered in a creamy provolone cheese sauce. For those who may not be limiting carbs, you can include fresh rolls for a Philly cheesesteak meatball sandwich or slider.
These chicken meatballs feature the fragrant Indian spice garam masala, which translates to "warm spice". Garam masala is usually a blend of black pepper, cumin, cloves, cardamom and cinnamon. The meatballs are simmered in a rich, buttery sauce with heavy cream, tomato sauce, fresh ginger and the remaining spices.
Turkey meatballs are sautéed and them simmered in a spicy and savory Salsa Verde and chicken broth mixture. And there's a surprise when you slice into each meatball: a warm and melty center of Monterey Jack cheese.