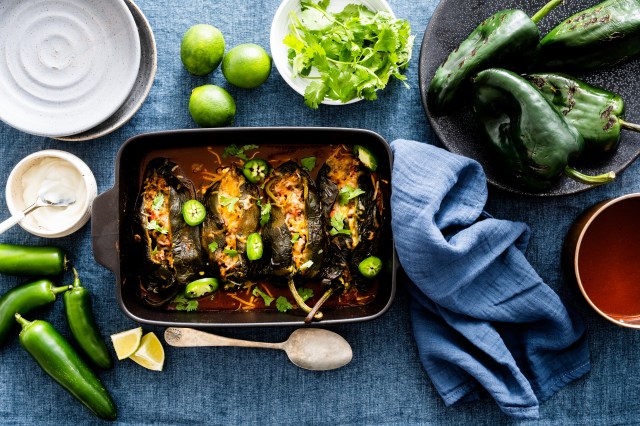 It's no poblano with these low carb recipes featuring poblano peppers.
Make the most of August's harvest with delicious recipes featuring poblano peppers. Poblano peppers are a mild chili pepper originating from Mexico. They are known for their smoky flavor with a hint of sweetness and subtle heat.
Tasty Low Carb Poblano Pepper Recipes
Poblano peppers are delicious when stuffed with various fillings like cheese or meat. You can also roast them, which brings out their natural sweetness and adds depth to the flavor. Roasted poblano peppers are often used in sauces, soups and stews. Dried poblano peppers, or ancho chiles, are used in Mexican mole sauce.
These roasted and stuffed poblano peppers are full of the Mexican flavors of enchilada beef and melted cheese.
Roasted poblanos and zucchini bring smoky-sweet flavor to this light summer soup with fresh herbs.
More Low Carb Tips for Cooking with Poblano Peppers
This versatile, crowd-pleasing pepper can be used in a variety of ways:
Grilled poblano peppers: Cut peppers in half and remove seeds. Brush with olive oil and sprinkle with salt, pepper or other seasonings. Grilled on medium heat until charred and tender.
Roasted poblano pepper salad: Roast the peppers in the oven or grill until blistered. Peel off the skin, remove the seeds and slice into strips. Toss with mixed greens, diced avocado, lime juice and olive oil for a fresh summer salad.
Poblano pepper fajitas: Slice the peppers and sauté with sliced onions, chicken, beef, pork or shrimp. Serve with lettuce wraps or low carb tortillas.
Poblano pepper dip: Blend roasted peppers with cream cheese, garlic, lime juice and cilantro for a tasty dip. Serve with sliced veggies.
Roasted poblano pepper marinade: Blend roasted peppers with olive oil, lime juice, cilantro and salt and pepper. Use it to marinate chicken, pork or fish before grilling.
Poblanos and eggs: Add diced peppers to any egg dish: Scrambled, omelets or egg muffin cups.