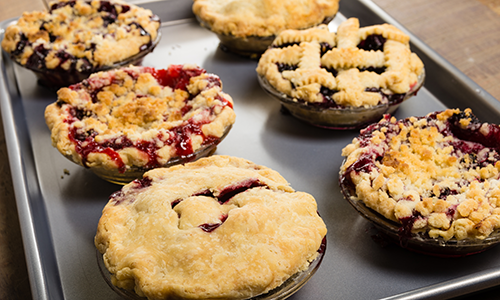 Ladies and gentlemen, start your ovens; January 23 in National Pie Day. In addition to fantastic recipes for low carb pie crust, cinnamon pie crust, and whole grain pie crust, Atkins also features an array of low carb sweet and savory pie recipes. Read on to find the perfect pie recipe for National Pie Day.
SWEET PIES
A Special Occasion Dessert
A wintertime dessert that's perfect for special occasions, Atkins Frozen Peppermint Pie is refreshing and minty. Ingredients include sugar-free Starlite mints, Atkins Dark Chocolate Decadence Bar, and peppermint ice cream. One slice contains 9.6g of protein, 55.2g of fat, 15.7g of fiber, 6.1g of net carbs, and 629 calories.
The Traditional Favorite
Atkins offers a traditional Pumpkin Pie with Pecan Crust recipe, as well as a new spin on the time-honored favorite—Pumpkin Pie Topped with Meringue and Toasted Nuts. Wholesome ingredients such as chopped pecan nuts, pumpkin, ginger, cinnamon, and 100% stone ground whole wheat pastry flour make this a relatively healthy pie recipe. One slice contains 13.9g of protein, 34.8g of fat, 4.5g of fiber, 12.6g of net carbs, and 423 calories.
A Tropical Pick-Me-Up
Light and fluffy Coconut Pie is perfect for a wintertime pick-me-up. Prepared with dried coconut, almonds, and coconut cream, one slice of pie includes 11.9g of protein, 41g of fat, 5.2g of fiber, 8.2g of net carbs, and 450 calories.
Dark and Decadent
If you have a couple hours to kill, Atkins Chocolate-Rum Pie is well worth the effort. The chocolatey pie is made with unsweetened cocoa powder, cream cheese, rum extract, and unsweetened baking chocolate squares, along with other ingredients. Each slice contains 4.1g of protein, 17.7g of fat, 1.8g of fiber, 4.4g of net carbs, and 187 calories.
SAVORY PIES
A Home-Cooked Favorite
Dig into Atkins Chicken Pot Pie, a hearty meal which contains chicken broth, boneless cooked chicken breast, and an array of veggies including celery, carrots, and onions. One serving features 35.4g of protein, 27.4g of fat, 3.1g of fiber, 11.6g of net carbs, and 447 calories.
Pie for Breakfast
Start your day off with a fresh-from-the-oven slice of Cheddar and Green Onion Pie. You can prepare the pie the night before (by following steps 1 and 2 of the recipe), and then finish the pie in the morning with step 3. The egg-heavy dish will keep you full until lunchtime. One serving contains 21.9g of protein, 32.8g of fat, 1.9g of fiber, 7.6g of net carbs, and 417 calories.