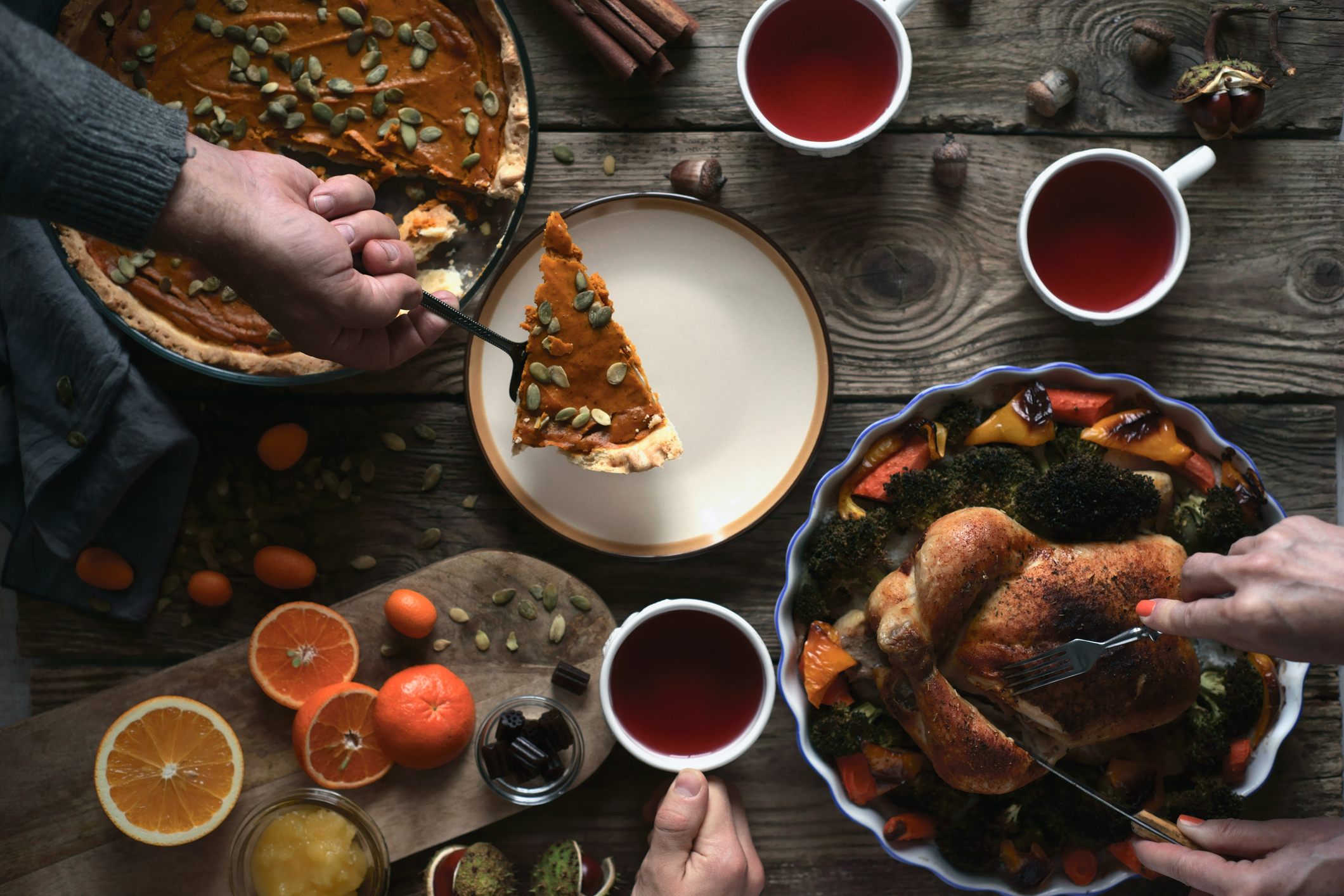 Thanksgiving is a time for sharing gratitude and spending quality time with friends and family. It's also a day known for indulgent eating and carb-filled foods. But that doesn't mean you have to stray from your healthy lifestyle! By cooking low carb Thanksgiving recipes, you can celebrate the holiday while staying on track with your nutrition goals. From turkey to dessert, here are some recipes and Thanksgiving dinner menu ideas to enjoy this holiday.
Recipes for a Low Carb Thanksgiving Dinner
Whether you are serving a small group or the whole extended family, a true Thanksgiving meal wouldn't be complete without some form of turkey. The Atkins Thanksgiving Turkey with Gravy recipe features a delicious 12-pound turkey and homemade gravy on the side—at 0.3g net carbs and 45.1g protein per serving. If you prefer chicken, try this Fool-Proof Roasted Chicken recipe.
Thanksgiving Side Dish Recipes for a Low Carb Diet
The most perfectly cooked turkey is nothing without the trimmings. Unfortunately, these can also quickly rack up carbs and added sugars. Whether you're bringing a dish to share or hosting at your home, swap your sides for these healthier substitutes. They may even become new family favorites you will make year after year!
Cauliflower Onion Mash with Cheddar
Try replacing your mashed potatoes with Atkins Cauliflower and Onion Mash with Cheddar. This low carb side contains 4.4g of net carbs per serving and loads of vitamin C. They are so delicious and cheesy that no one will even miss the mashed potatoes.
Green Beans Almondine
This low carb side dish recipe for green beans (4.7g net carbs) will add color and texture to your Thanksgiving spread without the additional carbs of a traditional green bean casserole.
Hemp Pilaf
Skip the stuffing this Thanksgiving and try our Hemp Pilaf instead. This recipe takes only 20 minutes to make and contains 8g net carbs and 20.4g protein per serving. Seasoned with shallots and garlic, it will surely satisfy stuffing-lovers.
Cauli Mac and Cheese
If mac and cheese is typically a part of your Thanksgiving spread, this year give our cauliflower version of the dish a try. With 5.9g net carbs and 11.4g protein per serving, this savory side is approved for all phases of the Atkins diet.
Cran-Raspberry Sauce
Like the cherry on a sundae, cranberries are often the final flourish on a Thanksgiving plate. Instead of canned or sugar-filled cranberry recipes, try our easy Cran-Raspberry Sauce with 5g net carbs per serving.
Low Carb Thanksgiving Dessert Recipe Ideas
Thanksgiving is one day when everyone saves room for dessert, and with these recipes, you can have your pie and eat it too. For the traditionalists at your table, our Pumpkin Pie with Pecan Crust recipe has 8.3g net carbs per serving and is ready to go in about an hour. You can also change things up with these Pumpkin-Spice Brownies.
Low Carb Thanksgiving Dinner Menu Ideas
If you're hosting this year and feeling overwhelmed at the thought of creating an entire low carb menu, we are here to help! Here are two Thanksgiving dinner menus created for each of the Atkins diet phases, so everyone can enjoy themselves this holiday without worry.
Thanksgiving Dinner Menu: Phases 1 and 2
Phases 1 and 2 of the Atkins Diet limit carbs to promote faster weight loss. If you are in either of these phases, you can still enjoy Thanksgiving with this Atkins-approved menu.
Thanksgiving Dinner Phase 3 & 4
This menu is perfect for Phase 3 or 4 of the Atkins Diet, which slowly incorporates more carbs for those trying to maintain their weight.
—
No matter what phase you're in, Atkins offers several delicious and easy recipes to help you enjoy the foods you love while still keeping up with your low carb diet and weight loss journey. For help tracking carbs on Thanksgiving, or any other day, register with Atkins and get access to our apps and counters.
Happy Thanksgiving!