Randy Fisher
Age 31
Healthier than ever

* The average person can expect to lose 1-2 lbs. per week. Results may vary. Weight loss is influenced by exercise, food consumed and diet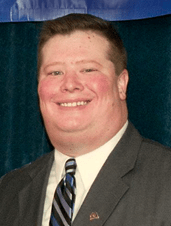 My Story:
On my 30th birthday I had an appointment with my doctor and it didn't go well. I weighed 310 pounds, had uncontrolled diabetes, uncontrolled high blood pressure, I suffered from constant gout flairs and sleep apnea. When I ask my doctor if she thought I would live another 30 years, she wouldn't answer me. The first thing I thought about was my kids. I had two at home both under the age of four and my wife was pregnant with our third.
My doctor recommended Atkins and at first I was skeptical but I gave it try. When I weighed in again after two weeks I had lost 15 pounds and had lost 30 after the first month. For the first time in my life I had the energy to exercise every day and play with my kids every night.
After three months when I had lost over 50 pounds my doctor had adjusted my medications and cut the number of pills that I took every day from eight to one. My shirt size had gone from a neck size 20 to a size 17 and my suit size from 52L to 44R. I looked better than I did in college.
Today I weigh 230 pounds, I'm off of all of my medications, I have the energy to keep up with my kids and I'm better at my job. I know that none of this would have been possible without Atkins. I'm excited for my future and I know that I don't have to worry about being there for my children anymore. Following this lifestyle has been the best decision I ever have ever made and I'm thankful that I found it in time.
My Goals:
My goal is to live a healthy life without medication for diabetes, high blood pressure and gout.
How Atkins Helped Get Me There: Following the Atkins lifestyle has made my goals feel realistic for the first time in my life. I have tried several different kinds of diets but the low carb lifestyle has been the only one that I have been able to stick to and enjoy and for that reason I have lost over 80 pounds.