Kevin Ruthen
Age 40
Making healthy habits last a lifetime

* The average person can expect to lose 1-2 lbs. per week. Results may vary. Weight loss is influenced by exercise, food consumed and diet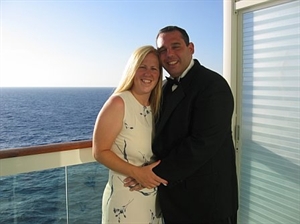 My Story:
I decided to start Atkins because I needed to change my eating habits, and I was looking for a lifestyle where I did not have to focus on portion size and calorie counting but rather focus on quality and nutrition. Atkins has allowed me a tremendous amount of flexibility to eat at home or outside my home while eating foods that satisfy me and keep me full. I view processed carbs as an addiction, and I am much better off without them. I have lost a lot of weight and have great energy. I feel so much healthier. In fact, my doctor has indicated he wants me to share my results and story with his other patients so they can commit and make a healthy change of lifestyle. He is very impressed with my results and all of my bloodwork levels have significantly improved. The majority of my weight loss was within the first three to six months, however I have continued to lose weight while gaining muscle, and I have been doing Atkins for just over a year now. The first two weeks were a challenge, as well as breaking my addiction from sugar and processed carbs. But quickly seeing results acted as a great motivator, as well as feeling satisfied with high-quality foods and protein and instead of craving processed junk food or grease.
My friends and family are amazed, and when I visited family across the country, they could barely recognize me. I could not imagine doing this without the support of my wife, and having her do it along with me. In fact, I delayed starting it until she got on board to do it with me. She has had amazing results and is very glad and appreciative that I convinced her to do it with me. I am so much healthier and happy. I love the way I look and feel. It has motivated me to have a much more active lifestyle and a more positive outlook on life. I love doing more active activities with my kids and acting as a healthy role model for them.
Favorite Atkins Friendly Food: The Atkins bars and shakes are great, especially before or after a workout, or as a breakfast or snack. They taste great and satisfy my hunger while providing me the necessary energy for workouts and recovery. I also like almond-crusted chicken and cauliflower mash and spaghetti squash.
My Goals:
Not provided.