* The average person can expect to lose 1-2 lbs. per week. Results may vary. Weight loss is influenced by exercise, food consumed and diet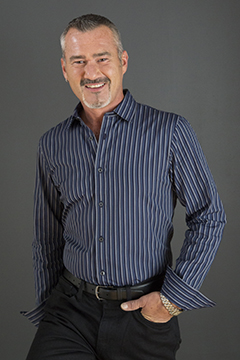 My Story:
In 1997, Brian Hilla was living in New York City, the "capital of terrible fast food available at all hours", and his weight was out of control. He turned down an invitation to his 10-year high school reunion because he was too embarrassed for his classmates to see how heavy he had gotten. Then he remembered that his father had been one of Dr. Atkins' cardiac patients, and had lost 60 to 70 pounds on the Atkins Diet. Long story short—Brian lost weight with Atkins, and he was a hit at his high school reunion. "The reunion was over 16 years ago," he says. "While I lost the weight and kept it off for many years, I went through some transitions over the years and lost my personal focus."
This was a wake-up call to renew his commitment to Atkins. Since January 13, 2014, Brian has lost 61 pounds, bringing him down to the 165- to 170-pound weight range where he feels most comfortable. He has added cardio workouts to his routine, and he plans on incorporating weight training. He also credits the support of friends on Facebook, who continue to motivate him. "I'm very proud of my recent progress, but I've lived the lifestyle for 26 years now, more than half my life, and I'm living proof, 'It works!'" he says. "Atkins is the easiest and least expensive way to take it off and love what you're eating! I've found a nice balance of fresh foods and Atkins frozen meals that is perfect for me."
Brian's advice to anyone starting out on Atkins is to read the book. "If you read the book and understand the different stages of the program, it's a breeze," he admits. "I usually stay close to the Induction stage, adding in carbs here and there, but I have most dropped pizza, fast foods, breads (that's a tough one since my brothers own an Italian store and bakery), pasta (another tough one since I'm Italian, and my brothers are caterers, too) and desserts." He does allow himself the occasional indulgence, within reason: "If I do ever have pizza, it's not the entire pizza." Brian believes that diets are very restrictive, limiting and temporary, while Atkins is a lifestyle he can live with. "I love Atkins because I focus on what I can have as opposed to what I can't have," he says.