---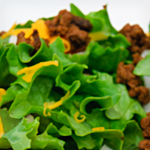 4.1g
Net Carbs
Prep Time: 25 Minutes
Style:Mexican
Cook Time: 30 Minutes
Phase: Phase 1
Difficulty: Difficult
* Any adjustments made to the serving values will only update the ingredients of that recipe and not change the directions.

How to Calculate Atkins Net Carbs
How to Calculate Atkins Net Carbs
Atkins Net Carbs = Total Carbohydrates – Fiber – Sugar Alcohols/Glycerin (if applicable)
×
---
INGREDIENTS
4 tablespoon Green Tomato Chile Sauce (Salsa Verde)

0 3/4 cup Tap Water

1 lb Ground Beef (80% Lean / 20% Fat)

0 1/2 tsp GARLIC POWDER

1 tsp Cumin

1 cup, shredded MONTEREY JACK CHEESE

4 oz Yambean (Jicama)

0 1/2 cup, shredded CHEDDAR CHEESE

1 tbsp CHILI POWDER

0 1/2 tsp ONION POWDER

4 tbsp Sour Cream (Cultured)

1 tsp Thick-It-Up

6 cup shredded Cos or Romaine Lettuce
DIRECTIONS
Make the seasoning mix: In a small bowl, combine the chili powder, cumin, Thick-It-Up, onion powder and garlic powder. Set aside.
In a large skillet, cook the ground beef over medium heat until browned, breaking up with the back of a wooden spoon, about 15 minutes.
Drain off fat, if any.  Add the water and seasoning mix; stir to combine. Reduce heat to medium-low, and cook until liquid is almost completely absorbed, 10 to 12 minutes.
In a large bowl, toss lettuces with the green tomato chile sauce. Divide among 4 large serving bowls, about 1 1/2 cups each. Top each with 1/4 cup chopped jicama.
In a medium bowl, toss the Monterey jack and cheddar cheeses together; divide and sprinkle over the jicama.
Divide and spoon the beef mixture (about 1/2 cup per serving) over the cheese.
Top each with 1 tablespoon sour cream and 2 tablespoons additional green chile sauce if desired (don't forget to add in the extra carbs!).  
Cooking Tip
Make a large batch of the seasoning mix to use in other recipes and to make prep easy! You'll need 2 tbsp of the blend for this recipe.
Featured Low Carb Recipes